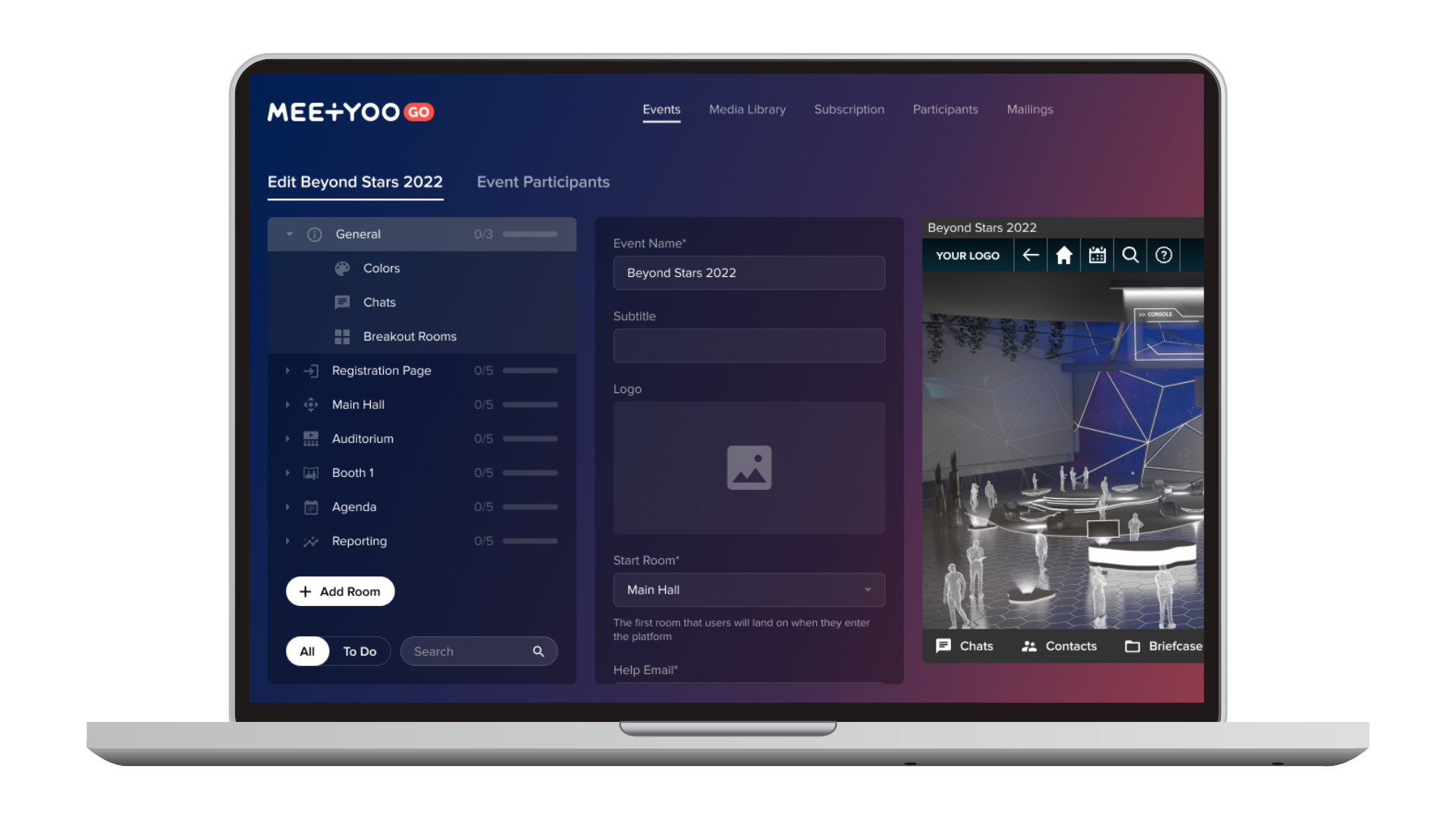 Virtual events don't need to be overwhelming. At MEETYOO, they're designed to be easy and exciting. Take the stress out of organizing and host your next event online. Just follow our easy step-by-step guide to seamless virtual event management. 
Since the shake-up of on-site work in 2020, virtual events have gone mainstream. 
There are some well-established players that were ahead of the curve and have thrived with successful online events. But there are plenty of new players that are less equipped to deliver high-demand events successfully. This has created many success stories but also offered some learnings and, unfortunately, some flat-out failures. These early teething problems created misconceptions about the limitations of virtual events. From buggy audio to navigation issues. 
But technology has improved to deliver solid results, generate qualified leads, and help organizers throw fantastic events in immersive virtual spaces.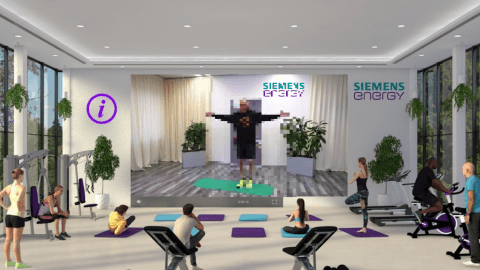 With many workplaces now being completely and permanently remote, one thing is clear: virtual events are here to stay. 
With 20 years of industry experience, MEETYOO we have worked on hundreds of events for different use cases. This knowledge and expertise can be distilled into a few factors that lead to recurring success. 
Success elements of virtual events include:
brand experience touchpoints
flawless streaming experience
human connections for networking and sales 
simple set-up and navigation
building a community and brand with recurring events
Based on those learnings, we created an easy-to-use solution that gives anyone the ability to create virtual events that drive value. We call it MEETYOO Go because you can jump right in and build your own virtual event quickly and easily.
Follow our easy steps for virtual event success. Ready, set, GO! 
Create virtual events in 3 easy steps
The easiest way to create unforgettable virtual events is by keeping things simple. Whether you're launching your latest product or hosting a global conference, it's always best to keep the purpose of your event at the center of your decision-making.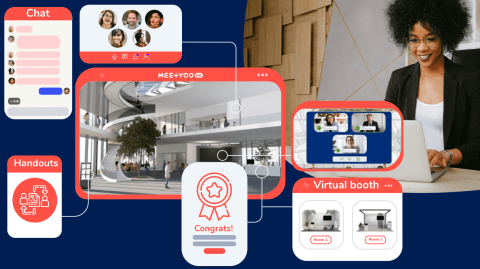 This starts with asking yourself what you want to achieve with your event.  
For example, are you: 
trying to raise brand awareness?
building trust through excellent event execution?
creating connections with virtual networking?
foster a community within your target audience.
generate sales leads? 
Once you have decided on your goal, you can start to work through these 3 steps to iron out the practicalities and structure of your event with your specific target in mind. 
Step 1: Create your event design and structure 
The design of your event should be based on your event purpose. Every detail – from setting the color scheme and each individual immersive element should be designed to get results. 
The most obvious of these details is your virtual venue. This can act as an immediate brand touchpoint. Don't miss out on the opportunity to have your audience experience your brand through an easily navigable click to enter the event. 
Your main event hall is the central hub of any immersive event. This is where you can add value for both your audience and your speakers, or any sponsors you may have. With clever event design, you can use banners, sky-writing, or brand placements throughout our event hall that will be widely seen and boost your brand profile with an interesting visual aspect.  
You can even include monetization through sponsor placements in the same ways as onsite conferences. 
The MEETYOO Go tool offers full customization and flexibility with the event design. You can add unlimited rooms and seamlessly add breakout sessions (as video calls) based on how much content you have to share and the user journey you want to create.
Decide early if you want to include gamification possibilities in your event space. This is usually a sign of successful virtual events as it engages the audience in an interactive way and can even include prizes. 
Step 2: Curate your content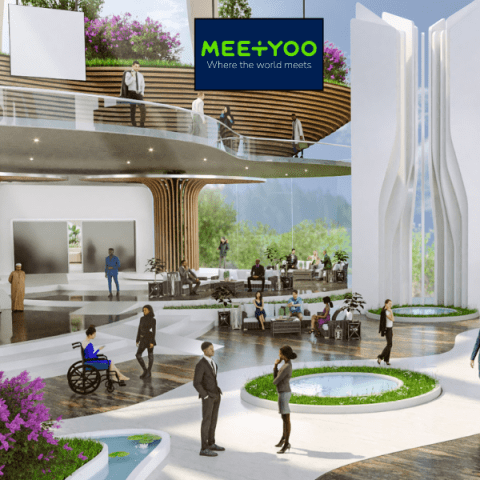 As the saying goes, content is king. To make your virtual event as successful as possible, the content needs to be flawless. It must provide value for both your attendees and your speakers.
Be sure to invite your speakers early, and communicate with them about how the event will work. Our tools allow for proprietary streaming solutions to ensure that all presentations are seamless and ensure the highest standard of professionalism. 
A designated support person can help manage and prioritize any questions from audience members, which will then be answered in real-time. It's important to give your team and your speakers' clear guidance on these roles ahead of time. 
Aside from questions, there are other interactivity and engagement features that can be used, from chat walls to breakout rooms as well as user search and easy-to-access networking features. Remember, sometimes less is more. Don't overwhelm your attendees with options. 
Finally, use your virtual information booth and exhibition fair hall to generate qualified leads. This is where you can really use your content to show off your USP and also include extra promotion and monetization for sponsors. 
Virtual events offer a fantastic opportunity for sponsors and exhibitors to get real-time audience insights from virtual advertising or features. By offering an entertaining or informative booth in an exhibition hall, brands can really stand out, for a fraction of the cost and effort of on-site events. Plus, no pesky setup or takedown of equipment!
 
Step 3:  Event Marketing
Once you have the brick-and-mortar of your event space constructed, and the content ready to stream, it's time to turn your attention to event marketing. 
The most successful virtual events use email automation to send out invites, record RSVPs, and register attendees. This is also an important opportunity to showcase more details about what they can expect at your venue and direct them to a landing page that acts as a hype-building billboard before the big day.
Getting email sign-ups during your event marketing phase is a great way to capture warm leads and continue to build community and brand before your event takes place. 
And once your event has finished, If you have recurring events, you can send out surveys to get direct user feedback on what they enjoyed and what could be improved even further to optimize the event experience. 
All the data you gather before, during, and post your event can be used in your company reporting, giving you valuable insight into your target audience and their online behavior. 
What's more, MEETYOO Go makes it simple to reuse elements of your events – or even the whole event - at no extra cost. So you can keep what worked, and upgrade what didn't.
Optimization for 24/7 experience & reach
Anyone who has ever planned an event knows how last-minute changes can threaten to derail things, and how stressful it can be. 
The thing to remember when planning for an online meetup is that virtual events aren't like traditional in-person events. They're a completely open platform which means they can be optimized at any time to improve user experience.
No calling suppliers or venue managers, anyone with access to the MEETYOO Go toll can log in and update 24/7, 365 days a year.  
Make your next event a virtual success, the simple way. 
 
Learn more about MEETYOO Go
Get started on creating your own virtual space or speak with one of our experts.
Image