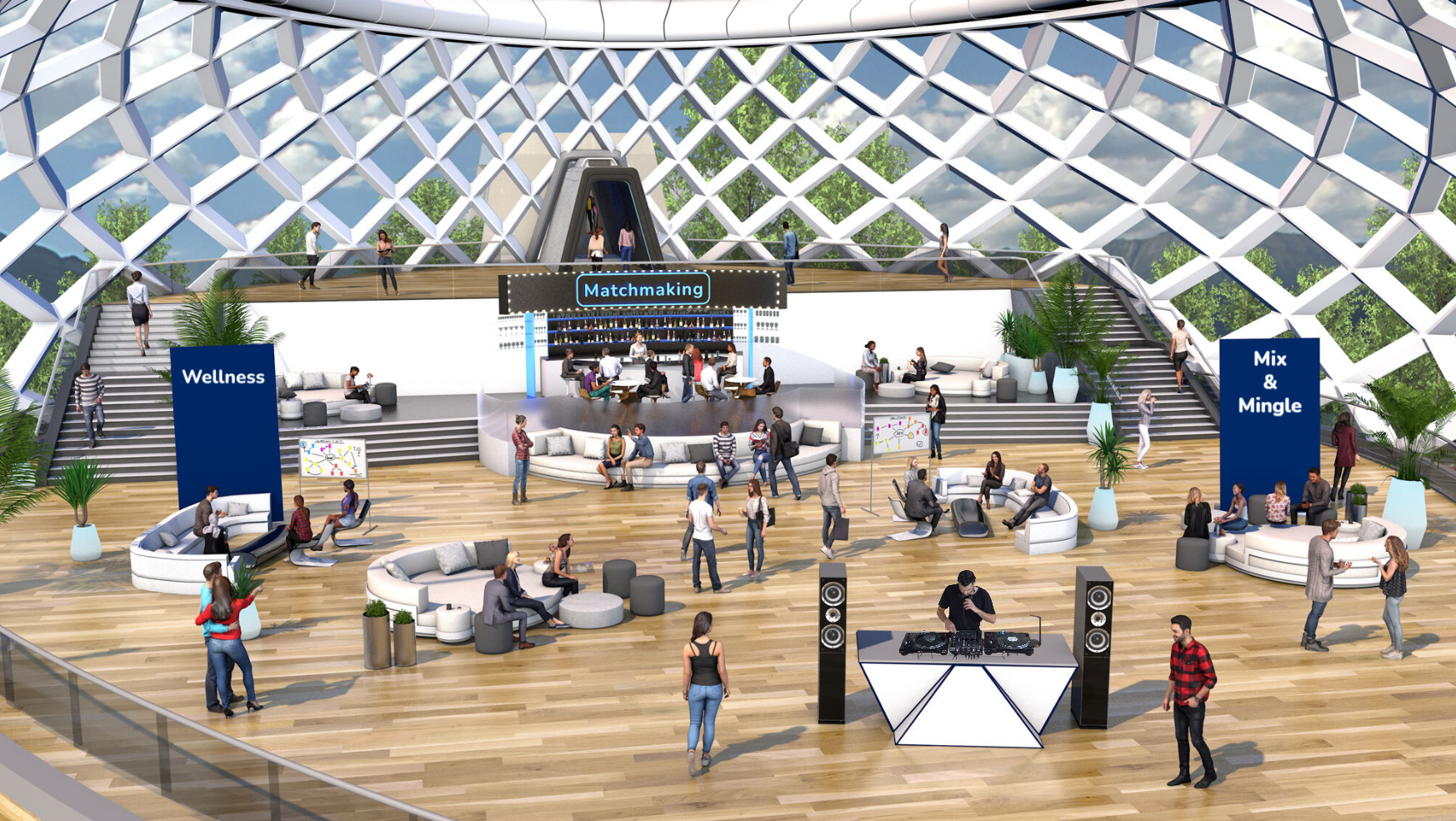 The future of work is already here, and it's remote and more global than ever. According to research, 83% of employees spend up to a third of their work week in video meetings, with a further 55% saying they have more meetings now than they did when they were fully office-based. Just as organizations now rely on internal virtual meetings, there's a concurrent rise in virtual events in the B2B and enterprise space. 
With the rise of the metaverse and immersive technologies, organizations are now looking to differentiate their virtual events by hosting them not on video conference grids, but in their own dedicated virtual event spaces.
Put simply, a virtual event venue allows organizations to bring the engagement and interactivity of a physical event into an always-on, flexible media hub that visitors can access anywhere and at any time. Here, they can engage in not only video chats and remote conversations but a huge range of immersive experiences. 
Before we explore why a virtual event venue could be an excellent option for your company, let's take a look at some of the classic issues with physical, on-site events.
Why does event planning seem exhausting and rushed?
Even before the rise of virtual events, event planning was tough. Hosting hundreds or even thousands of delegates in a huge venue throws up all sorts of challenges around uncertainty avoidance, scalability, and timelines.

These challenges include:
manpower and staffing: planning a successful event can be hugely tricky when it comes to personnel, not only in terms of your own team and any speakers but build operations, hospitality staffing, venue cleaning, and more. This is compounded by the unpredictability of attendance on the day itself
travel restrictions across regions: although this is thankfully less of an issue since the COVID-19 pandemic, travel is not as easy as it once was, and getting delegates to fly abroad for an event or conference remains tricky
cost and budget restrictions: breaking even on an event, let alone making a profit, is unbelievably tricky as organizations have to juggle delegate and sponsorship sales while operating costs balloon
venue availability & capacity: landing the right venue on the right date can be insanely tricky, especially as prices continue to rise. Even if you find the right place at the right time, the whole thing could fall apart on something as basic as A/V or catering facilities
timescale and project management: seeing an event through from concept to execution is a huge endeavor, with dozens of moving parts. Project and timescale management in event planning is particularly tricky, with managers having to balance the needs of many different stakeholders
Combined, all of these challenges can make planning an event extremely stressful, difficult–and if nobody shows up, a risky investment of time and money.
It's no wonder that organizations and enterprises are looking to virtual events to bring bright minds together with their customers to generate new ideas and discussions.
 
The downsides of virtual event venues
Firstly, it's important to note that not every event is going to work in a virtual setting exactly as it does on-site. If you're keen on hosting hands-on workshops, informal meet-and-greets, or other events, it can be difficult–but not impossible–to take these to the virtual realm. That's because certain events rely on audiences having a physical experience. 
A food and drinks convention, for example, is tricky in a virtual venue because it precludes a sensory experience—although, of course, it's still possible to engage in a virtual discussion while attendees enjoy physical samples. Similarly, something that requires physical touch or engagement—like a group exercise workshop—is difficult, although not impossible in a virtual event space. If your virtual event space is in an AR / VR metaverse application, there's the additional barrier of equipment and hardware.
Finally, there's the issue of holding attendees' attention. The investment of time and money by a delegate at an online event is nowhere near as much as that required for a physical event. While this can be a bonus in terms of boosting attendance, it can also mean hosts have to work harder to engage their focus and attention. 
So why have your own virtual event space?
All that aside, for the vast majority of enterprise-focused events today, a virtual event venue allows you to massively expand the scope of your audience as well as provide new, scalable ways for them to engage with your speakers, partners, and content.
That's because the two major drawbacks of a virtual event venue identified—visitor engagement and attendance—are also two of its biggest opportunities, thanks to the flexibility afforded by virtual spaces.
Firstly, in terms of attendance, virtual event venues allow you to host a near-unlimited number of people at a fraction of the cost of a physical venue. There's no need for your delegates or your speakers to travel, and you can continually reuse the venue for future events. So, for the right kind of event, it can actually prove much more accessible and inclusive to audiences in markets you would never normally reach.
Then, there's engagement. Your virtual event venue is completely reusable and customizable, meaning you can use it again and again for different events in the future and tailor it to the exact needs of each one. 
Each new event is an opportunity to think creatively about how to engage your audience, with complete free reign over the look, feel, and atmosphere of your virtual space. With always-on functionality, your visitors can access it again and again whenever they want, providing content on-demand in a way a physical event never could.
There's no need to worry about health and safety checks, and with a much lower cost attached, your resources can all go directly towards delivering the best possible experience for your delegates quickly and effectively.
Ideal use cases for your virtual event venue
As we've explored, there are certain events that simply won't work in a virtual event space. But there are countless others that will. 
Many of our customers use their event spaces to host internal events and round tables for their remote teams, giving them a vital opportunity to bring their staff together outside a video conference.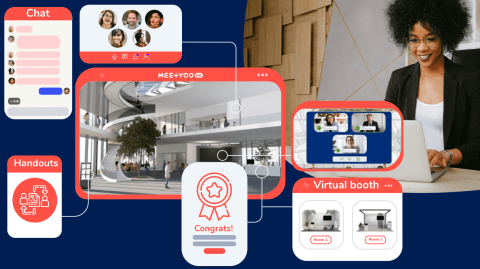 HR departments also find them a great way to run online career fairs and events and give applicants a window into the company culture and the roles available. As a more accessible venue, a virtual event space can help boost your diversity & inclusion initiatives as well as offer a space for your teams to meet, chat, and collaborate. 
Virtual event venues are also great for external stakeholder events. Virtual conferences are an obvious one, but these can go far beyond keynote speeches. Your virtual event venue can feature a show floor where visitors can attend exhibits and chat with team members in branded booths. 
Ultimately, virtual venues represent the natural evolution of webinars and video conferences. As immersive technologies develop, virtual event venues are only going to become more prevalent and sought after. If you want to get ahead of the curve, now's the time to consider a leap into owning your own space. 
What's more, building your own virtual event venue doesn't have to be difficult. MEETYOO Go is our powerful self-service editor for creating and customizing your own venue for immersive virtual events. It combines numerous templates and market-proven features that allow you to create individual online exhibitions, trade shows with virtual booths, and virtual conferences in no time at all. 
Image
Learn more about MEETYOO Go
Get started on creating your own virtual space or speak with one of our experts.
Image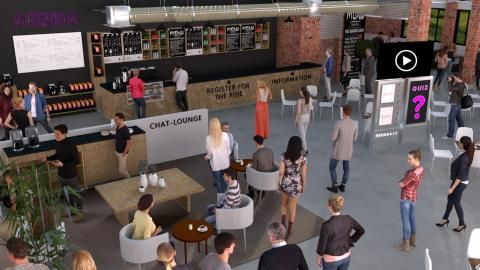 10 Pro-tips on how to host an innovative virtual event.
Image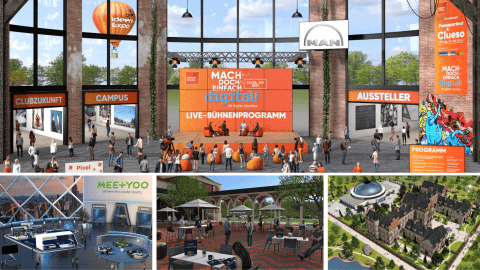 Your guide to know how and why you should customize your virtual event design to convey your event purpose in 2022.
Image