MEETYOO: The Microsoft Teams Alternative

Whilst Microsoft Teams (MS) was introduced to many companies as a video conferencing solution and also became more popular for webcasts. Here we compare MEETYOO Show and MS Teams in their service and feature aspects for you to choose the right platform for your next webcast. 
MEETYOO
At MEETYOO, we live and breathe events. While we are a software company, we understand events and provide all the services and support required to help clients produce the virtual events of their dreams. Founded in 1999 to fill a void in teleconferencing, MEETYOO has evolved to provide our clients with solutions for live streaming and virtual events of all kinds. Today's executive team includes the founders, underscoring their commitment to the company and the event industry. The product range offers streaming, managed-service, and self-service virtual event solutions made for high-demand clients.
Microsoft Teams
Microsoft Teams is a platform developed by Microsoft that combines chat, meetings, notes, and attachments and was launched in 2017. It integrates with Microsoft Office 365 and Skype for Business. The help and FAQ content for Microsoft Teams is available in 37 languages. The collaboration software offers extensions that can be integrated with third-party products.
Image
High-Quality Streaming 
Microsoft Teams
Live Events enables organizations to broadcast video and meeting content to large audiences and includes moderated Q&As and chats. Attendees can watch pre-recorded content, on-demand videos, or live streamings. MS Teams supports up to 10,000 attendees with a maximum of 4hrs per event. Events on MS Teams can have multiple speakers. MS Teams events are always with Video, Audio-only events are not supported.
MEETYOO Show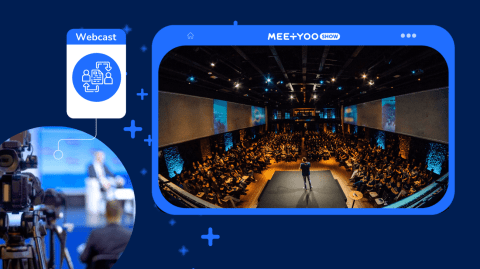 MEETYOO Show allows for seamless integration of all types of streaming sessions. Professional live studio productions, webcam presentations, or pre-recorded content. To improve presentation quality professional webcast managers will train your speakers and support them on standby during the event.
Multiple audience engagement features are available: real-time polling, live Q&A, and chat wall integrations.
MEETYOO Show supports video production on-site, and hybrid sessions and also comes with the option to have a remote-studio production, with a multi-grid view.
Proven Customer Support
Microsoft Teams
MS Teams is made for webinars and presentations with up to 10,000 participants. The virtual meeting setup process of MS Teams is only available in self-service. Setting up virtual conferencing takes multiple steps through an event interface. There is first-level support available through chat and email.
MEETYOO Show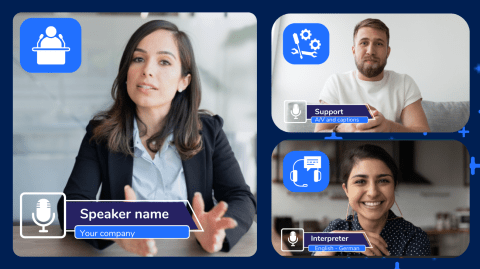 MEETYOO Show is built for large-scale webcasts with up to 50,000 participants, for webinars, presentations, and company updates. Our team fully manages your webcasting setup and invite process. All webcasts come with a lead project manager, an account manager, and various other team members to support setup, design, and platform configuration. Throughout the event preparation, a dedicated account manager is available to you.
Unique and Branded Event Interface 
Microsoft Teams
MS Teams integrates with the Microsoft product family, but it is not a standalone all-in-one solution.  For presentations, you can organize content, attendees, and lecture notes with PowerPoint Live. During the live sessions, different modes of moderation can be used with real-life views that bring together backgrounds, content, and people. You can moderate webinars by disabling audio, video, and chat for attendees. The waiting area also lets you conveniently control access.
After the event, MS Team relies on Microsoft CRM Dynamics 365 to use reports and attendee information to manage and track leads.
MEETYOO Show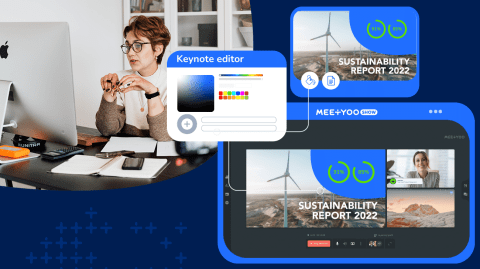 MEETYOO Show is a standalone product for web streams. With the intuitive speakers interface you can work on your keynote presentations and play videos in full-screen. MEETYOO Show allows multi-speaker views, ideal for discussions and more engaging content presentations. Moderators can access submitted questions and filter and assign them to the speakers for a seamless experience.
MEETYOO Show comes with chat functionality, participant management with Email Automation, and registration pages. It also has a built-in media library, that will host all always-on content on an easy-to-use webpage.
Mobile Experience
Microsoft Teams
MS Teams offers an App for Mobile and Desktop. Also, events are accessible through the browser. Running in the Azure cloud, MS Teams allows worldwide streaming on mobile devices without buffering. 
MEETYOO Show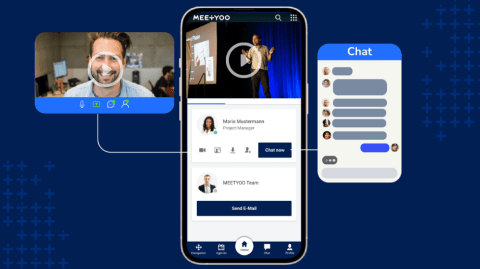 MEETYOO Show events are browser-based and easily accessible on any device through a responsive browser interface. All
attendee actions and all content are available via a mobile browser, so attendees anywhere can fully participate in your webcast.
Engaging Attendee Interactions
Microsoft Teams
MS Teams enables event organizers to hold engaging interactive webinars with up to 1,000 participants with dynamic speaker views, real-time polling, and live emojis.
It is possible to create an interactive meeting environment with the Together mode. Participants can focus on faces, understand nonverbal communication, and easily identify who is speaking. Collaborate in real-time on content shared by the speaker via a screen. Any meeting participant can jump right in and add text, quick notes, emojis, or freehand writing.
MEETYOO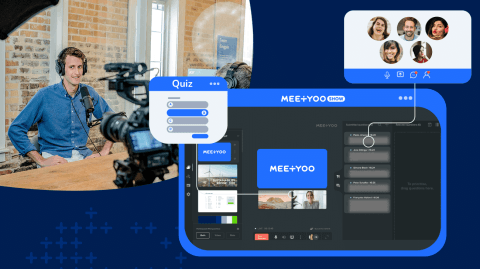 MEETYOO allows the participants to chat with each other, participate in polling and submit questions in real-time.
Larger video conversations can happen in breakout rooms, with up to 30 attendees. These rooms can be moderated, open to all attendees, private to specific attendees, or even used for random mixers, enabling spontaneous connections among attendees. Booth exhibitors and sponsors can participate in any and all interaction options as determined by you.
Net Zero Focus
Microsoft
Microsoft promotes sustainability by pivoting to the Azure cloud and optimizing supply chains. When it comes to carbon emissions, scope 3 represents the majority of Microsoft's emissions, and they are committed to reducing these emissions by more than 50 percent by 2030.
MEETYOO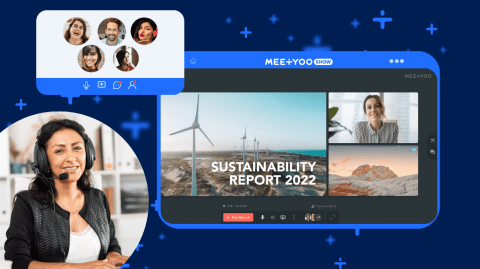 MEETYOO is a remote-first company with the vision of decarbonizing the event industry. Partnering with certified carbon accounting professionals to minimize our carbon footprint, MEETYOO is offsetting all our direct and indirect emissions from direct business operations, cloud servers, electricity, and so on. All events hosted on our MEETYOO Pro platform are net-zero.
Image
Premium Service for your Event Success
We have been in the virtual event business for over 20 years and provide consultancy and guidance.
Why MEETYOO Show is a great Microsoft Teams alternative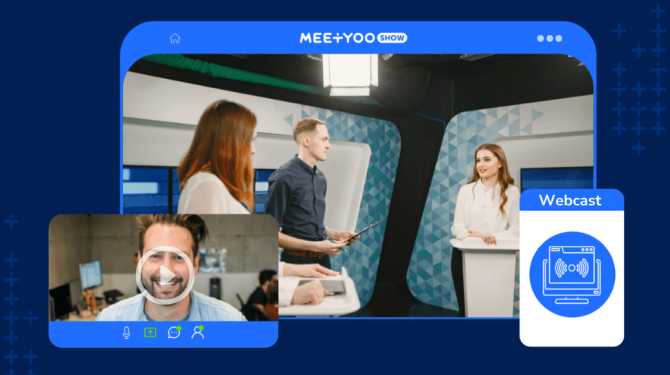 Best-in-class managed service
MEETYOO Show is perfect for Corporate clients. It includes full project management and customer service with support from a designated account manager. In comparison, Microsoft Teams requires you to additional reach out to a partner agency for support.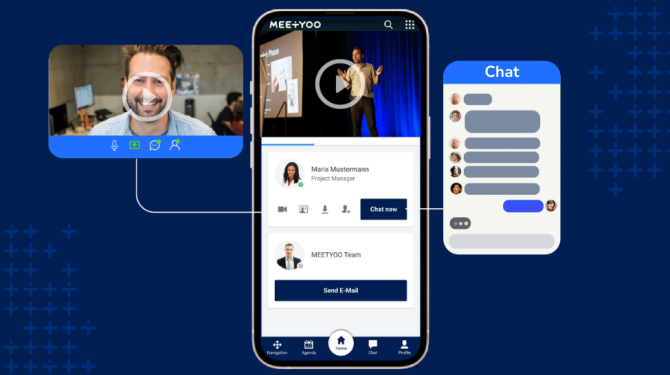 Mobile & screen optimized
The MEETYOO Show webcast is browser-based and easily accessible without the need to download an app. For smaller device screens, we provide a breakpoint-based mobile view that allows an optimized streaming experience. Microsoft Teams comes both as mobile and desktop app or browser-based solution.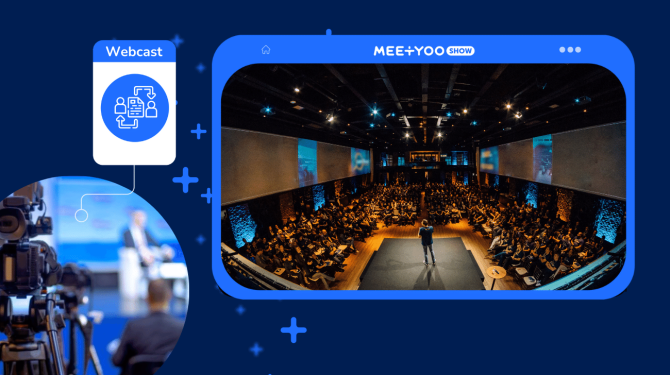 We are highly flexible on contractual: offering one-off events or individual license agreements, as we are a service-oriented software company that lives and breathes events. MS Teams has a standardized pricing, but offers custom enterprise packages for large clients.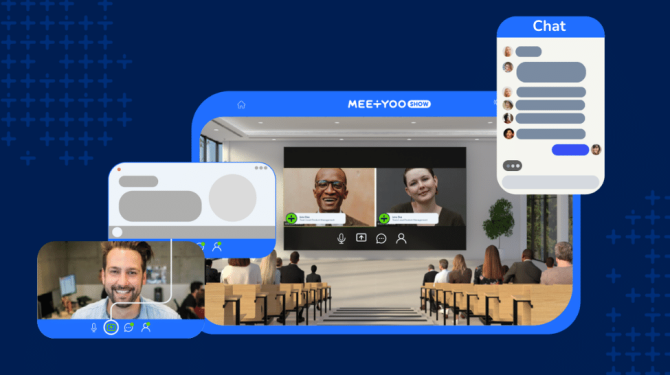 With MEETYOO you can also book a virtual theater and present your content in a custom-design auditorium with chat wall and Q&A integration.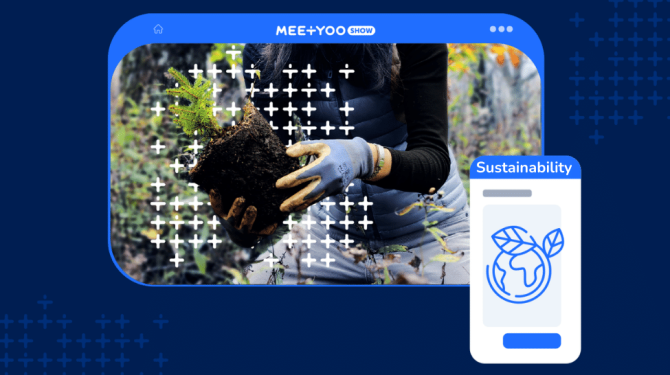 MEETYOO is actively reducing and offsetting its carbon footprint. We are doing the same for all events hosted on the platform.
Image
MEETYOO is used by multinational companies
Image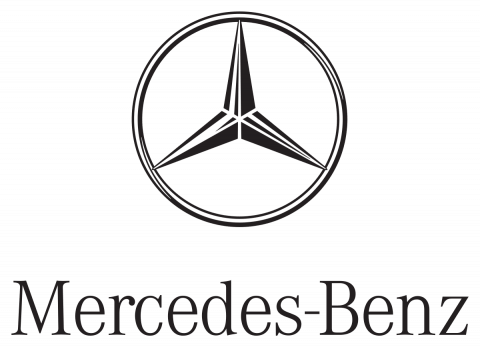 Image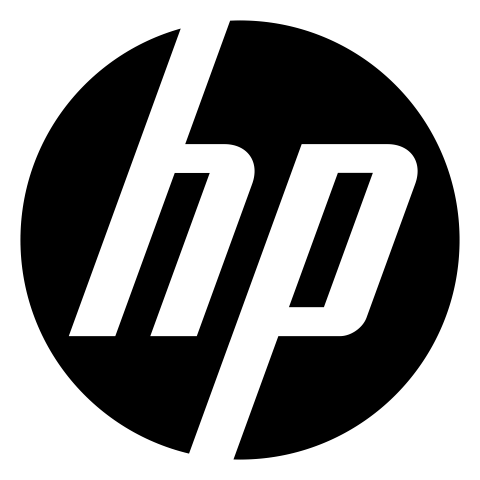 Image

Image

Image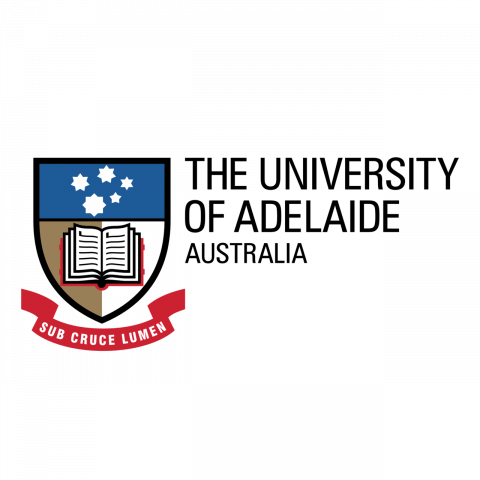 United Kingdom & Europe
Phone: +44 20 386 888 83
CET | Mon - Fri from 8 am - 6 pm
North America
Phone: +1 646 741 3167
CST | Mon - Fri from 8 am - 6 pm