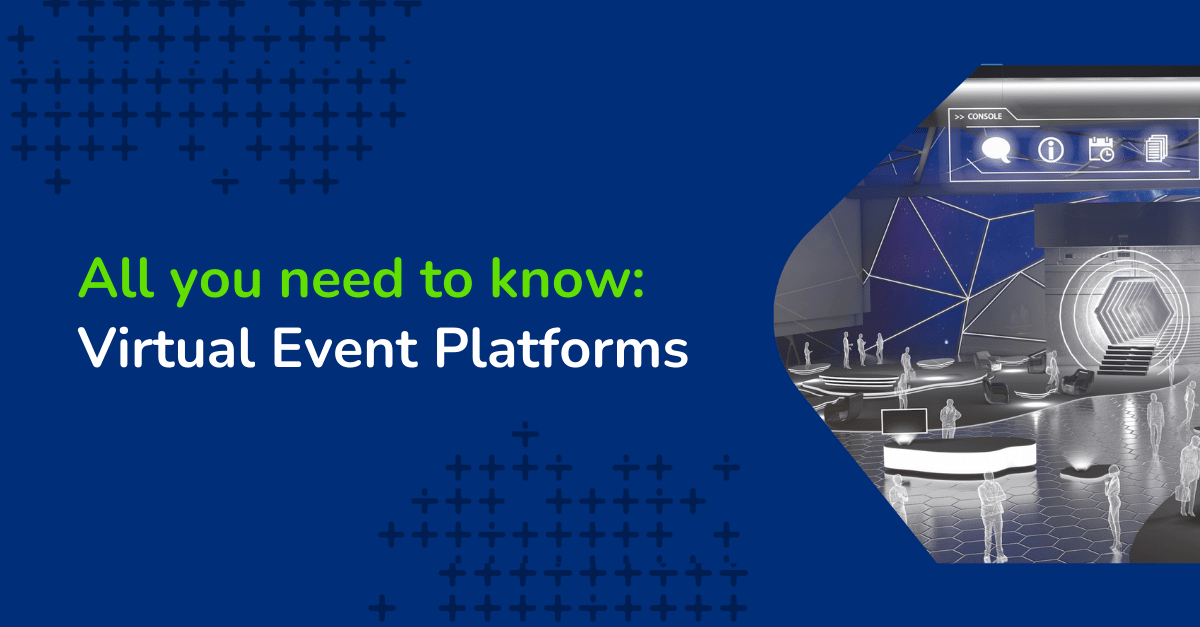 The events industry used to be all about in-person meetings, networking at trade shows, and traveling to large conference centers. However, it eventually became clear that the benefits of an event - whether for recruitment, training, or any other purpose - could be realized without physical interaction at all within a virtual event platform. And crucially, without the drawbacks of in-person events: travel times, capacity limits, and a lack of flexibility.
Today, virtual events are a booming sub-sector of the events industry, with many organizations exploring the possibility of hybrid events, where in-person attendance is offered alongside virtual event features. This type of digital event can provide the best reach for an organizer, enabling individuals to interact with an event whether they can physically attend the venue or not.
Table of Content
1. What is a virtual event platform?
2. What types of virtual event platforms exist?
2.1. Single webpage event platforms.
2.2. Immersive virtual event platforms. 
3. What are the reasons to use a virtual event platform?
4. What types of events can be hosted on a virtual event platform?
5. Which virtual event features does a virtual event platform have?
6. Which organizations use a virtual event platform?
7. What types of virtual event platforms does MEETYOO offer?
What is a virtual event platform?
In short, a virtual event platform is a digital tool for hosting interactive events - whether these are trade expos, work conferences, or any other sort of gathering. Although the earliest virtual event software was showcased back in 1993, the technology has evolved significantly since then. 
Virtual event solutions are being viewed as replacements for many in-person events, where engagement is facilitated by cutting-edge technology. They are much more than just another Zoom call. In reality, virtual events combine webcast streaming with workshop options, Q&A sessions, and gamification opportunities to create a fully immersive experience. 
Since the outbreak of the COVID-19 pandemic, virtual events and online meetings have witnessed a marked rise in popularity. Between 2020 and 2021, the number of virtual events increased by 35%, and this upward trajectory is set to continue as we enter a post-pandemic world. A recent survey found that 72% of marketers and professionals expect to attend the same number of online events (or even more) as they do currently even once in-person events return.
There are also longer-term challenges that virtual events can help resolve. Virtual events can play a prominent role in lowering carbon emissions in the events industry. The annual carbon footprint for the industry worldwide is the same as the emissions produced by the United States over an entire year. The events industry is responsible for more than 10% of global carbon emissions. Switching from an on-site event to a virtual one can lower the carbon footprint by as much as 94%. Climate change is one of the most pressing challenges facing mankind - and virtual events can form part of a sustainable solution.
Evidently, virtual events are here to stay but to ensure that they have the impact you're looking for, it's essential that you work with the right virtual event platform.
Image
Discover our virtual event platforms
Speak with the experts on our team and start creating your own virtual event platform. 
What types of virtual event platforms exist?
Each virtual event platform comes with its own unique strengths and weaknesses. Ultimately, event organizers will need to weigh up which sort of virtual event features they need, who their target audience is, and any other software considerations. 
When deciding which virtual event tool suits your needs, it is worth keeping in mind that virtual event platforms broadly come in two distinct types:
1. Single webpage event platforms
Despite the evolution of virtual event technology, there are occasions when an individual or brand may want to keep things simple. If that's the case, a single webpage event platform may be all that's required for their virtual event.
The majority of event platform providers offer standard web-based platforms consisting of flat, standard web graphics, buttons, and other UI elements traditionally found on today's websites. It's a method of being on the web that almost all attendees are familiar with. A study by eventMB found that 82% of platforms use this option.
For example, some webinars, conferences, real estate open house days, or even personal events like a bridal shower, may not require a particularly extensive virtual event solution. In these cases, a simple webcast of the event, a way of registering or sending RSVPs, and perhaps a small amount of communication may be all that's needed. 
Some of their advantages are usually high flexibility with integrations of external features/platforms, easy access to the platform, which often comes with a mobile app as well. Finally, this types of event platforms are easy to navigate since participants are used to website navigations.
On the other hand, some of their disadvantages are the limitations in design and customization, and their fewer branding opportunities for organizers.
2. Immersive virtual event platforms
The other type of event software is a fully immersive virtual event platform that is managed, customized, and packed full of added-value features. These types of all-in-one virtual event platforms allow for virtual booth design, real-time polling, interactive features, and sponsorship options. 
 
For global brands and corporate heavyweights that want to create a virtual event that can match or even better the engagement of an in-person event, immersive platforms are a must. They are more adaptable than single webpage platforms so if there is a particular design you have in mind for your virtual event, an immersive platform will probably be able to bring it to life. It is important to note, however, that in this segment, a distinction can be made between two kinds of immersive virtual event platforms: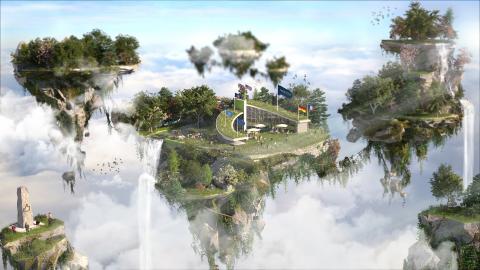 On the one hand, there are the virtual event platforms with 2D / 3D  environments. This kind of environment uses angles, texture, and depth to give users the feeling that they're in a three-dimensional space. They may use visually rich photography to make users feel like they are walking through a convention center, an outdoor veranda, or an elaborate exhibit hall. This design option is focused more on the visual experience with the content integrated within it.
Some of their advantages are a visual experience that helps retain participant engagement and interaction. In addition to it, intuitive designs allow participants to move across the event without complications. Low access barriers allow participants to enter and explore the event without limitations (no downloads, installations, etc.), and the designs and event layouts add a ''wow'' factor to the experience.
However, this may come with longer virtual event configurations in comparison to other digital event platforms, and a different pricing model due to their flexibility for customization.
On the other hand there are virtual event platforms with pure 3D environments. These platforms are traditionally known for allowing users to create an avatar and explore an event by moving to different areas with their keyboard arrows. The look and feel of an event using this type of technology is similar to playing a game. In the past months, platforms offering 3D environment events have been considered to imitate or recreate an experience in the metaverse. 
Some of their advantages are their 3D spatial sounds, voice interaction between participants, and other gamification features which are very engaging for attendees inside the event. Furthermore, these virtual spaces offer a "real life" experience that allows walking around the fair.
Regarding their disadvantages, we can note that attendees that are unfamiliar with first-person navigation games can get easily overwhelmed with a gamified experience. Platforms using this type of technology often require additional installations and have more accessibility limitations in comparison to webpage navigation platforms or 2D / 3D platforms. In addition, this type of technology generally allows fewer participants per event and makes it difficult to integrate a native app for the event or allow mobile experiences.
What are the reasons to use a virtual event platform?
The increasing focus on sustainability and a growing familiarity with remote or hybrid work has meant that more businesses and individuals are seeing the benefits of an all-in-one virtual event platform. 
While in-person events could not take place in many markets at the height of the COVID-19 pandemic, they are now back on the agenda for many brands. Nevertheless, virtual or hybrid events are continuing, demonstrating their advantages. By 2028, 73% of departments will have remote workers. Evidently, virtual collaboration has a bright future long-term. 
We've included a list of some of the main reasons why you may want to use a virtual event platform below: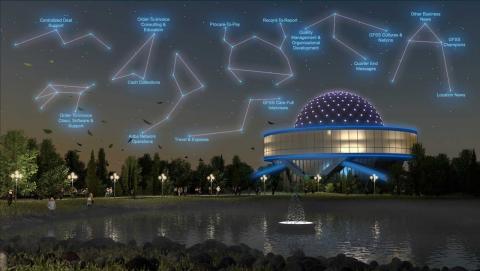 Virtual employee events 
The world of work has changed significantly over the last two years, with the rise of remote or hybrid working making it more difficult to organize in-person employee events. According to a Gallup survey from February 2022, 42% of employees with a remote-capable role continued to work from home at least some of the time, while 39% worked entirely from home. 
The added flexibility provided by hybrid work has meant that employees are more comfortable using digital collaboration tools than ever before, fuelling their acceptance of online employee events, such as team-building activities. In addition, virtual events can help boost employee engagement at your organization - letting all members of staff socialize with colleagues and connect with the company brand and culture.
Career and recruitment 
The recent labor shortages seen around the world have highlighted the challenges surrounding recruitment. Last April, the US reported a record 9.3 million new job openings, while in the EU during 2020, almost one in three workers were employed in a labor surplus or shortage occupation. Today, businesses are operating in an employee-centric market. Competition for talent is fierce and companies need to do all they can to appeal to potential candidates. 
One way that businesses can stand out from their competitors is by using virtual career and recruitment events. Virtual career fairs can improve a company's reach, demonstrate innovative work practices, and provide vital data that makes it easier to follow up with the brightest talent.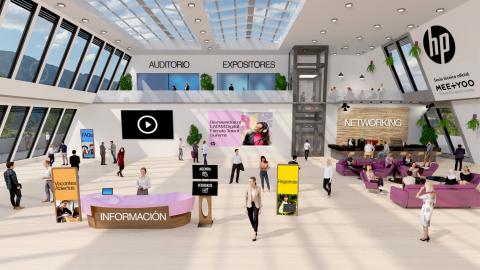 Professional training, education, and development
Career development is an essential component of employee retention, with 76% of employees stating that companies would be more appealing if they offered additional skills training. And yet, just 29% of workers are "very satisfied" with the career advancement opportunities available at their current organization.
Virtual event platforms provide employers with the flexibility to offer career development opportunities tailored to their workforce. These could be in the form of workshops, panel discussions, or skills demonstrations. Training opportunities can be offered to staff wherever they are located and sessions can be interactive, educational, and on-brand.
Marketing and demand generation
Virtual events can be major assets for marketers, providing a more integrated audience experience and utilizing a data-led approach. Rather than serving as a one-off meeting, a virtual event can be part of a broader marketing strategy, delivering one-to-one interaction between brand and audience.
What's more, unlike in-person events, virtual events allow marketers to connect event data to their existing marketing technologies. This data integration means that every touchpoint along the customer journey can be mapped and monitored, so you can identify bottlenecks, and increase demand.
Virtual conferences and tradeshows 
Switching your trade show from the conference floor to the computer screen can deliver numerous benefits in terms of accessibility, visibility, and lead generation. Various media channels can be incorporated within a virtual trade show, from social networks to email push smartphone apps, greatly increasing their reach.
Virtual trade shows can also be more cost-effective than in-person events, where a physical space has to be rented to accommodate your attendees. The one-on-one meet-ups that form such an important part of in-person trade shows and conferences can also be replicated via a virtual event, with breakout rooms providing the perfect opportunity for a more private virtual setting.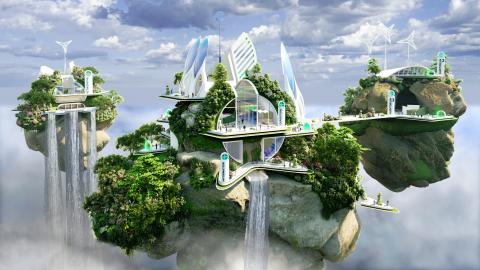 More sustainable events and meetings 
The events industry has a sizable carbon footprint due to the travel, energy, and waste associated with in-person events. A single attendee to an in-person conference produces more than 170 kilograms of CO2 emissions per day on average. Added up across an entire trade show or conference, it becomes easy to see why the events industry is keen to improve its sustainability credentials. 
Fortunately, virtual events are associated with significantly lower carbon emissions. According to this study by Nature, transitioning from an in-person conference to a virtual one reduces an event's carbon footprint by 94% and its energy use by 90%. For the events industry to play a larger role in combating climate change, sustainable, digital events are likely to become a more common occurrence.
What types of events can be hosted in a virtual event platform?
As the benefits of virtual events have become evident to a greater number of organizers and attendees, companies have begun to question whether an in-person event necessarily suits their needs. This is particularly true given the variety of events that can be hosted virtually. We've listed some examples below:
Virtual Fairs and Trade Shows
Initially, the events industry was skeptical that trade shows could be carried out digitally. It was thought that the experience of walking around the showroom and interacting with products would be impossible to replicate. However, as technology has evolved, exhibitors can now present attendees with interactive 3D product demos, cross-device functionality, and even an e-commerce platform to make on-demand sales. Altogether, it means that virtual trade shows can deliver a great experience for attendees and strong RoI for organizers.
Virtual Career Fair
Businesses shouldn't have to limit their reach by geography but unfortunately, this is often the case with in-person career fairs. There are several reasons why an individual may not be able to physically attend a fair, which means companies may miss out on hiring a promising candidate. That candidate may then end up being employed by a competitor. With a virtual career fair, not only can prospective job applicants interact with companies from wherever in the world they are based, but recruiters can also gain access to important data that may help them with their employee search. Work can be remote now; why not recruiting too?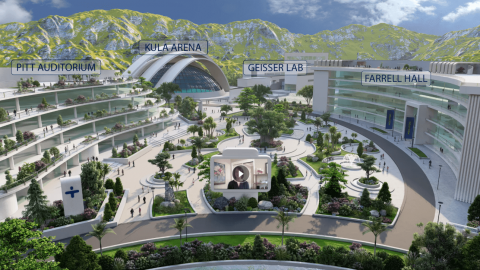 Online Training Platforms
Virtual event platforms aren't only suitable for large-scale one-off occasions. They are also ideal for training programs, whether it's a course lasting several weeks or a workshop that can be completed in a day. Remote tools still provide plenty of opportunities for interaction. Learners, trainers, and educators are no longer limited by lecture times or face-to-face meetings. What's more, metrics and analytics can be used to provide educators with clearer insights into a learner's progress and achievements.
Virtual Product Launch
Virtual product launches can be much more cost-effective than in-person demonstrations, enabling brands to present their product to a truly global audience. 3D object modeling means that event organizers can provide detailed 360° motion displays that integrate directly with their virtual booths.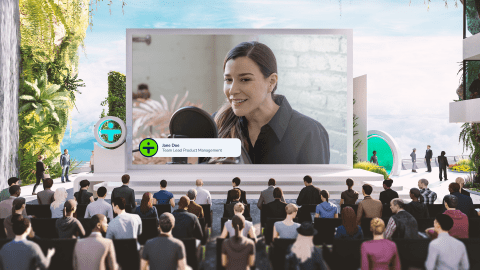 Virtual Conferences
Conferences are ideal for connecting with a large-scale audience - but even the biggest conference room has a capacity limit. With a virtual conference, however, no such restrictions apply. Businesses can utilize data to reach their target audience - no matter where they are located or how many individuals it covers. With a virtual conference, you can offer attendees and exhibitors access to auditoriums, exposition halls, networking lounges, pre-recorded webcasts, and more.
Internal Communications
Although virtual event platforms are usually thought of in terms of sharing a message with external stakeholders, they are increasingly being used for internal communications too. Virtual event software can be used to share company news or enable employee collaboration, especially when companies have branches based all around the world. Virtual event solutions are also great for controlled audience participation - receiving feedback from employees and other stakeholders.
Virtual Award Ceremonies
The glitz, glamour, and a general air of celebration are all aspects commonly associated with an awards ceremony or gala event. The good news is, that these can all be replicated virtually. Virtual award ceremonies can be accompanied by a fully immersive design that suits the occasion and your brand. From the entrance hall to the ceremony itself, everything can be recreated digitally.
Virtual Employee Events
Virtual employee events have long been an effective method for management personnel to meet and connect with workers. Transferring these meetings to the virtual arena requires video streams with extremely high security standards to ensure sensitive company information is not leaked. Virtual meetings allow for closer integration with other communication channels so all stakeholders feel engaged in the meeting without individuals talking over one another.
Virtual Campus
Education is one industry to have experienced rapid digitalization - with hybrid learning becoming commonplace. At university level, this can even be extended to the campus experience with students able to attend virtual open days, view lectures, and take part in group work.
Virtual Showfloor
Virtual showrooms allow brands to share their products with customers in an immersive way, whether they are selling cars or clothes. Augmented reality features even let customers engage with the product in a 3D environment using only their smartphone. Customers can also move around the virtual space, 'try' products for themselves, and view sales and promotional material. Plus, they can buy the product instantly.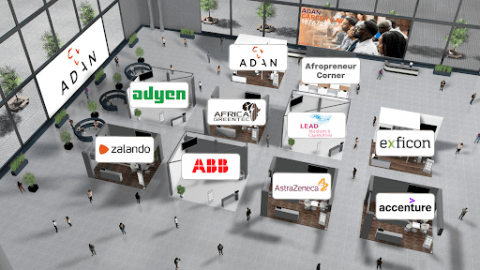 Virtual Hiring Event 
A hiring event or open interview is somewhat different from a career fair. It usually involves just a single company, whereas a career fair may involve multiple brands competing to attract candidates. At a virtual hiring event, employers can still interact with candidates just as they would with an in-person interview, but they can also show off their brand digitally and use analytics to assess candidate answers. There's no need for note-taking as each interview can be recorded seamlessly.
Hybrid Events
Not strictly a virtual event, a hybrid event combines virtual and in-person elements. Although virtual events have increased markedly in popularity, it doesn't mean that in-person events no longer serve any purpose. By combining the best of in-person and virtual events, brands can leverage all that technology has to offer without losing that human touch. For some individuals (and needs), an in-person event may be best, while at other times, a virtual event is required. It's about flexibility - that's what hybrid events give you.
Image
Selected Virtual Event Platform Designs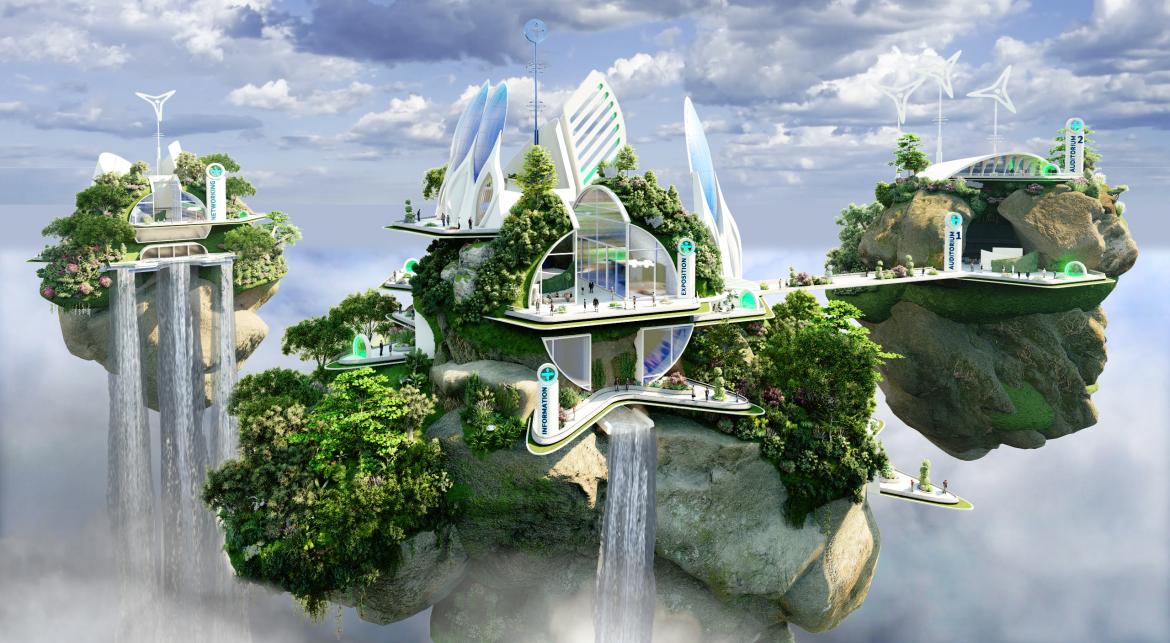 Main hall carbon neutral virtual events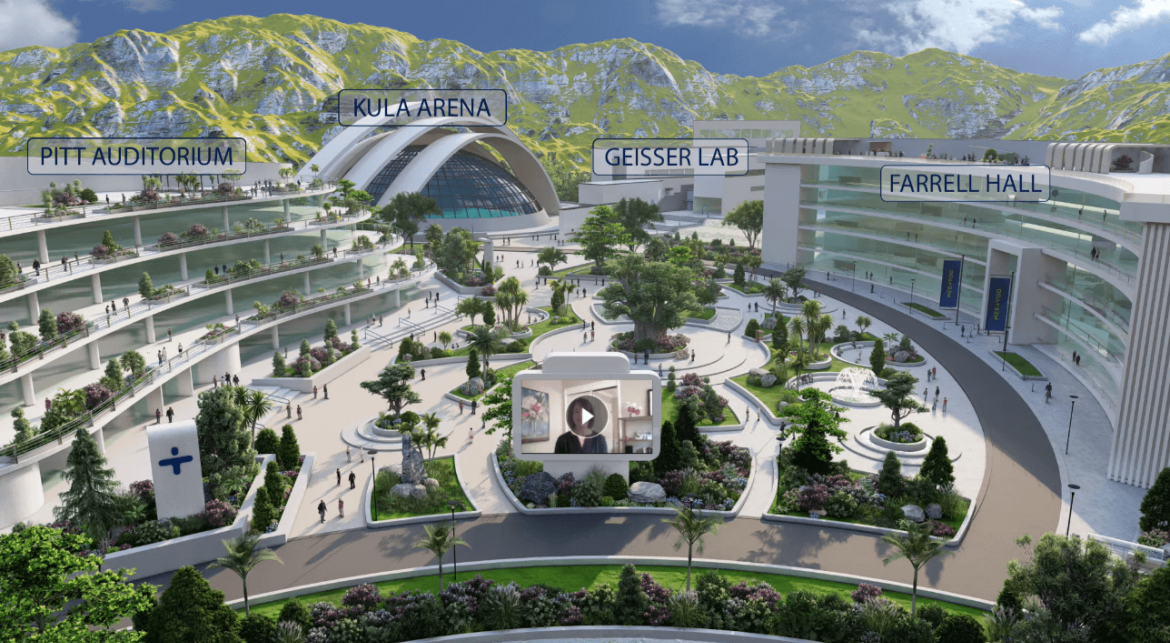 MEETYOO virtual learning campus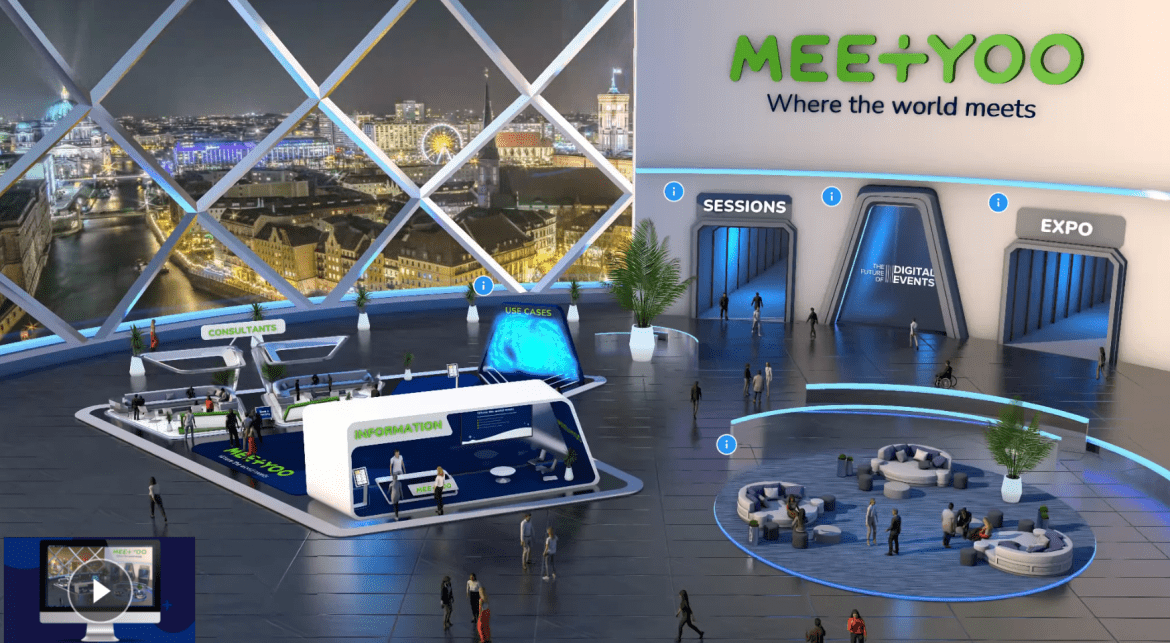 MEETYOO virtual experience and event platform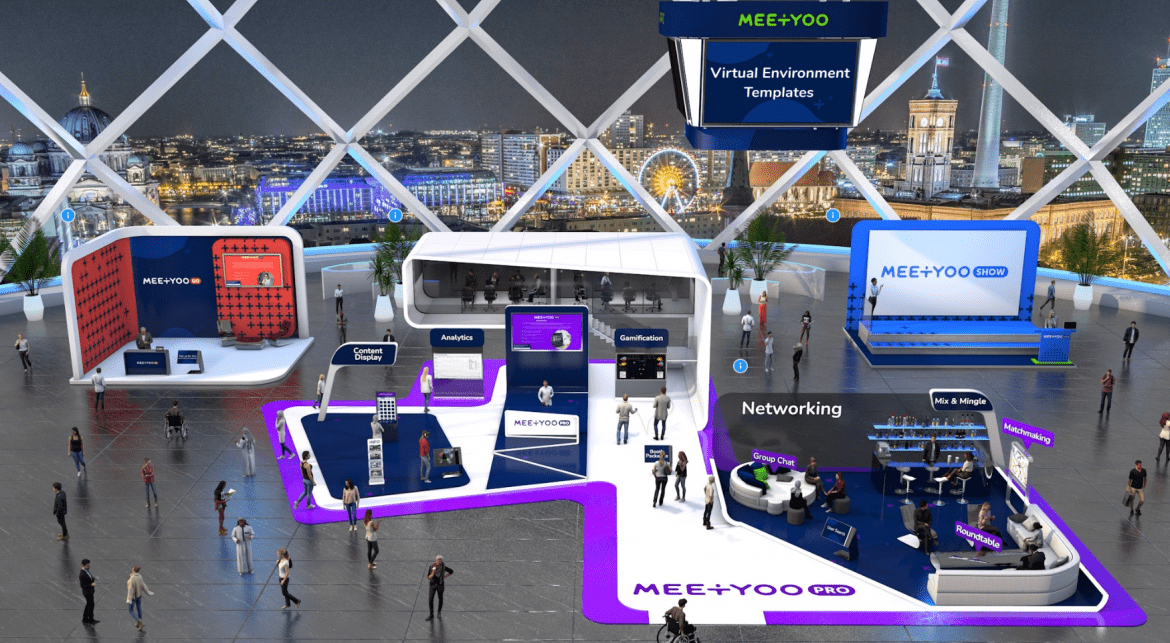 MEETYOO virtual experience - Show floor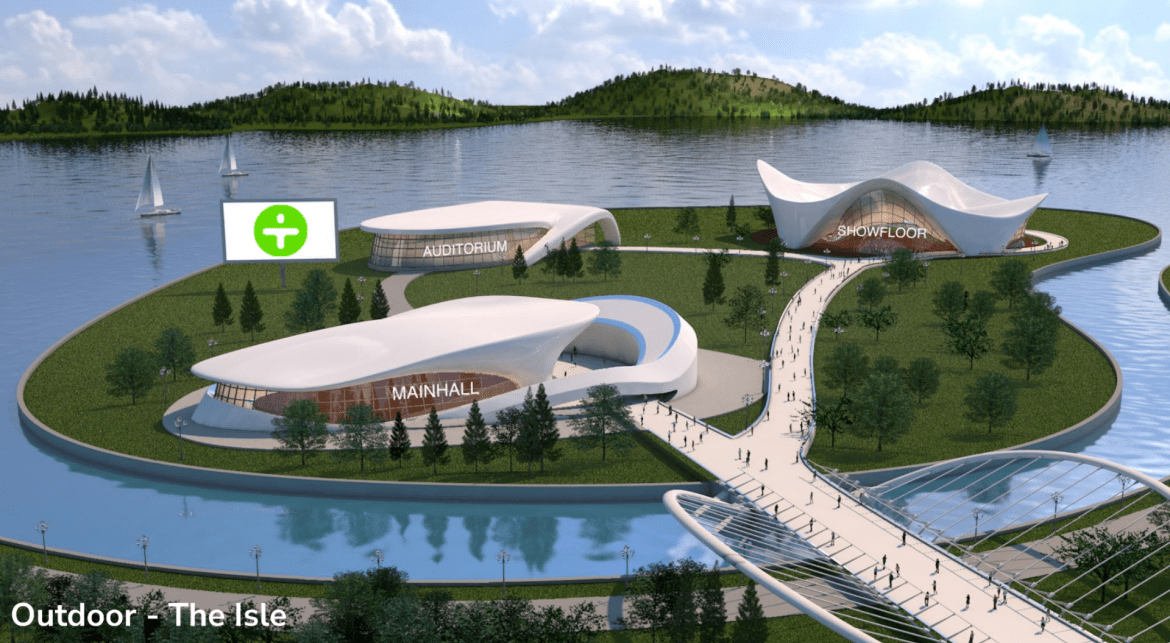 MEETYOO virtual event platform - The isle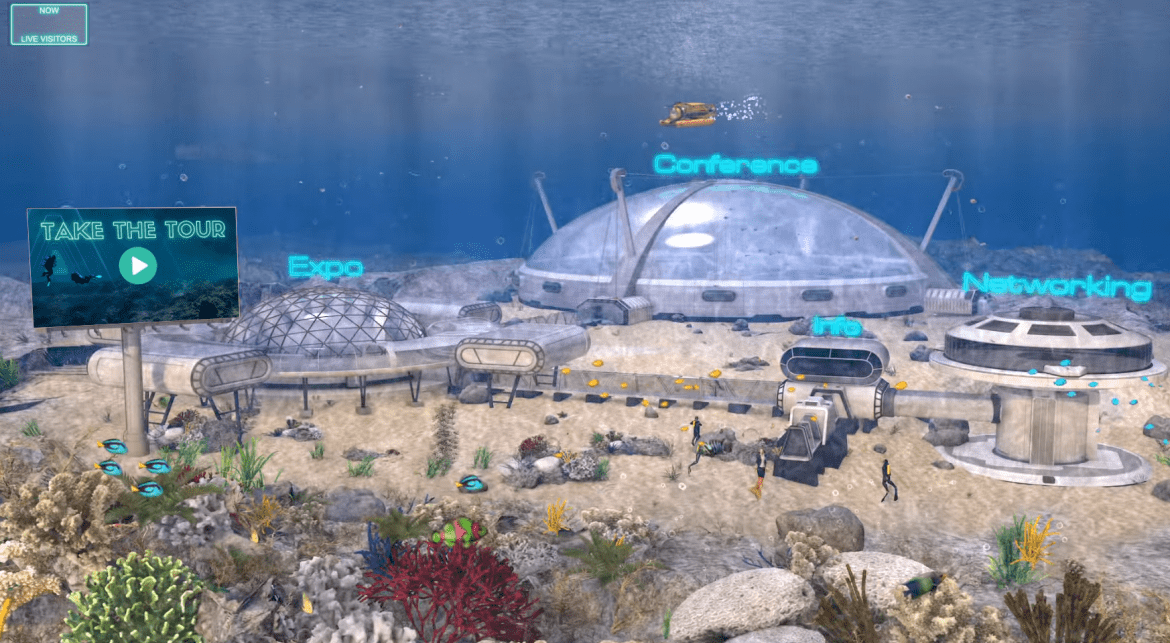 Future of Digital Events and Platforms - Main hall
Image
Which virtual event features does a virtual event platform have?
Deciding which virtual event platform is right for you will likely depend heavily on the kind of features you need. We've listed some of the most important below: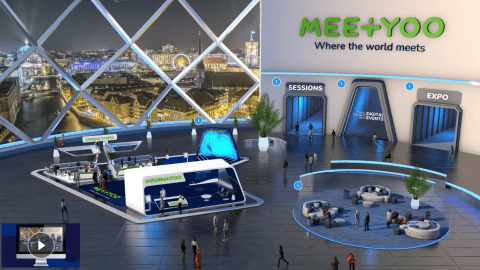 Virtual Event Design
The success of a virtual event depends on more than marketing and access - it is also affected by how an event looks. Modern event platforms are capable of creating captivating environments that incorporate 3D modeling and all your brand's visual assets to create a design that is engaging for all your attendees.
Virtual Booth
At a physical event, your exhibitor booth would be hugely important. Things are no different at a virtual event. Virtual event platforms can create booths based on template layouts or highly personalized designs, so the functionality and look are unique.
Participant Management
Managing the visitor journey before, during, and after a digital event is hugely important - and depends on good participant management. From the registration page to automated mailing lists, to networking opportunities and follow-up campaigns, event management platforms can monitor, manage, and support every stage of the visitor journey.
Lead Scoring and Reports
With digital events, collecting data suddenly becomes a lot easier, including around lead generation. Virtual event platforms can track and aggregate every interaction in real-time to build up detailed profiles for each attendee and transform them into highly qualified leads. Many platforms combine personalized reports with first-rate data security so attendee privacy is protected.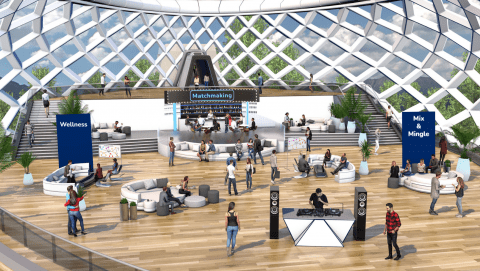 Digital Event Matchmaking
Networking is one of the most useful parts of any event, but how do you know which visitors are most relevant to your brand? With an event platform, you can create matchmaking lists based on an individual's profile and interests. That way, you can focus on making lasting connections at your event.
Remote Virtual Studio
Webcast streams are a fundamental part of many virtual events but not every brand has the audiovisual skills required to ensure speakers look and sound their best. Some platforms come with a built-in remote virtual studio so you can enjoy professional multi-location streams of discussions, panels, debates, and keynotes at your event. Your speakers can enjoy studio-like production with high-quality mixing and direction.
Always-on
Typically, in-person events are inflexible. They have an opening and closing time, there is an agenda for meetings or talks, and there is little opportunity to adjust the schedule. On the other hand, virtual events can offer 365-day availability. As well as allowing people to attend from wherever they are based in the world, they can also access talks and meetings at times that are more convenient. There's no need to stick rigidly to pre-set hours.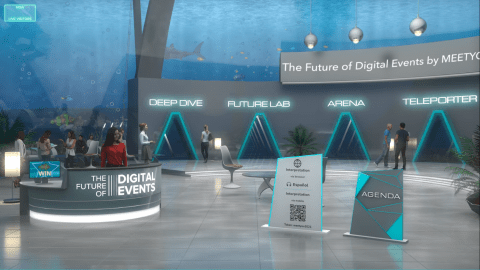 Virtual Event Gamification
Gamification is increasingly being used by businesses to boost engagement. Within virtual events, activities like polls, raffles, and scavenger hunts can ensure your audience remains motivated and entertained.
Virtual Event Engagement
The attendance figures at your event can mask the fact that many of the people there are not really engaged with what's going on. However, virtual events make it easier to prioritize engagement through interactive elements like co-creation sessions, virtual workshops, or quizzes. Virtual event engagement is a key feature within many event platforms and helps to create a memorable online experience.
Virtual Event Planning
Successful virtual events don't just happen - they are the result of strategic planning. The right virtual event software will contain the toolkit you need for each stage of the planning process, from virtual event design to marketing, content strategies, and testing.
Virtual Event Sponsorship
Virtual events can be a great way of reducing costs - but it is sometimes underappreciated how effective they can be at increasing revenue too. Virtual events provide a range of sponsorship opportunities including branded digital lobbies, booths, and auditoriums. Workshops, roundtables, and talks can all be sponsored too - just as with in-person events.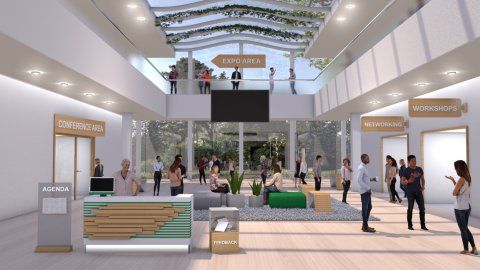 Virtual Mobile Experience
The mobile experience of a virtual event platform is essential nowadays for every single participant attending with a mobile device. This allows them to tune in from anywhere and don't miss a single beat while they are on the go. This important feature will help any kind of event extend its reach without losing any engagement. In addition, a feature like this will add on the flexibility aspect in terms of audience location, end device and responsive design. 
Virtual Theater
A virtual theater is so much more than a simple webcast stream, Teams or Zoom meeting. It allows to take live questions, poll audiences and share highly professional presentations and visualizations with directed transitions and effects. In addition. a virtual theater offers a chat wall for audience engagement and encourage 1:1 chat to increase attendee connections. This type of webcast streaming option also permits to include relevant documents and resources for further education and what's more, it can even be used as a 24/7 media hub.
Which organizations use a virtual event platform?
Virtual event platforms have a wide variety of use cases, making them applicable to many different types of organizations, including the following:
Enterprise
Even the demanding requirements of multinational corporations can be met through a virtual event platform. Branding opportunities, large-scale audiences, and product demonstrations can all be accommodated, alongside the level of technological sophistication that is expected from some of the world's biggest companies.
Educational institutions
Prospective students, graduates, alumni, academics, and industry are just some of the stakeholders that are usually present at an event in the education sector. But only a virtual event can reach these stakeholders wherever they are in the world, creating on-demand access for audiences large or small.
Associations
Unions and other associations can use virtual events for peer-to-peer networking, member meetings, and summits, whether you want to reach out to prospective new members or update long-serving ones.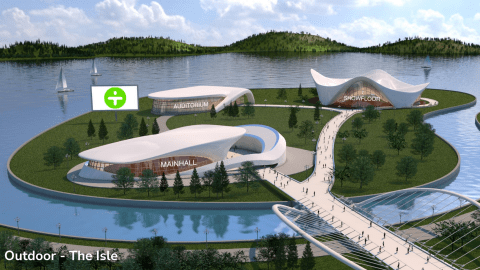 Event Agencies
Whether your client wants a distinctive aesthetic or a more realistic offering, event agencies can use digital platforms to create custom designs boasting stable, high-end performance so you can grow your agency's portfolio with a premium virtual event.
Trade Show Organizers
For trade show organizers looking to extend their reach across international borders, virtual events are ideal. Digital booths can help brands identify leads and demonstrate that businesses are innovative, tech-savvy, and forward-thinking.
What solutions do the virtual event platforms of MEETYOO offer?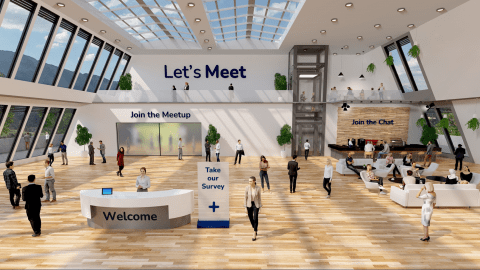 If you're looking for a virtual event platform that has all the features a modern digital event needs and can cater to the demands of different businesses and industries, then MEETYOO ticks all the boxes.
We are an experienced managed service provider that has organized numerous digital events for clients all over the world. Our software has been used by companies in over 80 countries to launch engaging, innovative, and sustainable virtual events. Why not join them and see how MEETYOO can support your digital event program?
Meet the Family
Hybrid and Virtual Event Solutions
Image
Learn more about our virtual event platform
United Kingdom & Europe
Phone: +44 20 386 888 83
CET | Mon - Fri from 8 am - 6 pm
North America
Phone: +1 646 741 3167
CST | Mon - Fri from 8 am - 6 pm