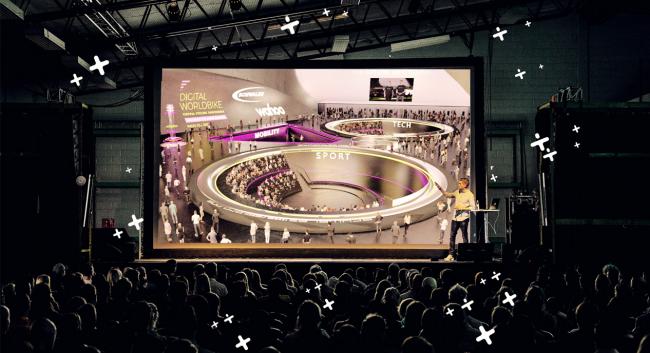 Hybrid events in person and online: The best of both worlds
On the go, accessible, always on. These buzzwords gain meaning when it comes to hybrid events on our MEETYOO Pro platform. People who cannot make it to the actual event location, can instead visit a digital twin or your event. What this type of event looks like is up to you, the organizer. Adding immersive, virtual experiences to a physical event and making this content available to a global audience demonstrably increases your overall return of investment. Hybrid events represent the ultimate combination of traditional on-site events and virtual event environments.
What is a hybrid event?
There are two main ways that you can go to make the most of your hybrid event and its digital features.
Image
Co-hosting
Creating a digital twin of an on location event and adapting it into a virtual event allows organizers to expand their reach beyond the location of their event. The hybrid event is not a simple copy of your physical event – it is intended as an adaptation that takes advantage of digital event features and elevates things to the next level. Additionally, exhibitors can extend their booth presence to a virtual booth set within the digital version of your event.
Image
Co-streaming
Using hybrid events as a platform for studio-quality live streams is a unique way to leverage the power of our virtual event solution. The hybrid event can be treated as a broadcast of a live studio production with an audience (the physical event). This solution also allows for multiple regional satellite events that are being combined into one show which is seamlessly integrated into a digital event environment and can be made available online internationally.
Image
Learn more about our virtual events
Visit our MEETYOO Pro page: The virtual solution that can make your hybrid event dreams come true.
Why you should go hybrid
If done right, you get the best of both worlds! We have the necessary know-how and the best toolkit on the market – our track record with large-scale hybrid events speaks for itself. Here's why going hybrid might be the solution to all of your event woes. 
Image
Hybrid events are perfect if you want to...
Make the most of digital event features
Our MEETYOO Pro platform offers the ideal combination of professional support and customer service by experts and a powerful, stable software for virtual events. It is the perfect base for a successful and engaging hybrid event experience.
Image
Hybrid conferences in premium quality
We have worked with large clients to create major hybrid event experiences for tens of thousands participants. Our MEETYOO Pro solution is perfect for stable large-scale hybrid events with thousands of virtual attendees.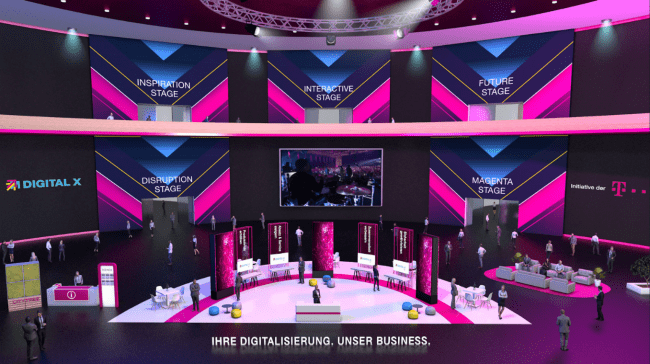 Telekom's Digital X
This event was massive, with 160 speakers from all over the world discussing technology from every perspective. The schedule was packed with eye-opening panels, trend-forecasting talks, and inspirational speeches, including a keynote from Sir Richard Branson. With a digital twin, the Digital X organizers could guarantee that everyone got a chance to attend and replay the experience.
Attendees, live and online, were able to review the speeches and panels they missed. This hybrid event fill the need of increased reach during the pandemic without sacrificing human connection.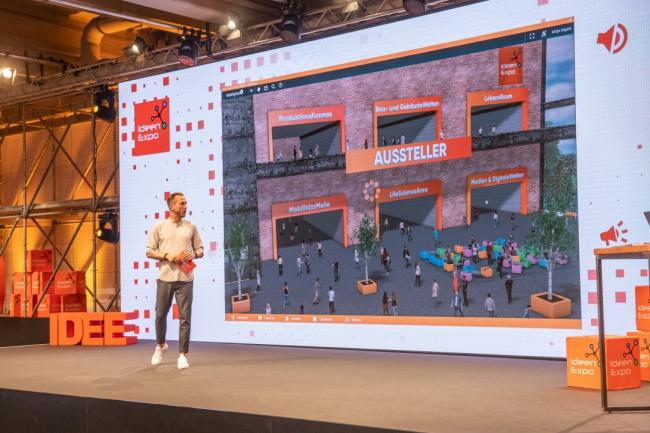 Ideen Expo Hybrid Conference
The Ideen Expo was launched with the aim of getting young people excited about STEM and starting a professional future in the science and technology field. It is considered Europe's largest youth event of its kind. Because of state regulations, the event's organizers decided on a hybrid event format to keep the series going and make it as accessible as possible to a live audience on-site and online.
600 students took part on-site and 70,000 viewers attended the virtual event worldwide. Moderated live talks with different experts from more than 70 exhibitors were offered and streamed live from one of the 4 event stages at the venue.
Image
United Kingdom & Europe
Phone: +44 20 386 888 83
CET | Mon - Fri from 8 am - 6 pm
North America
Phone: +1 646 741 3167
CST | Mon - Fri from 8 am - 6 pm