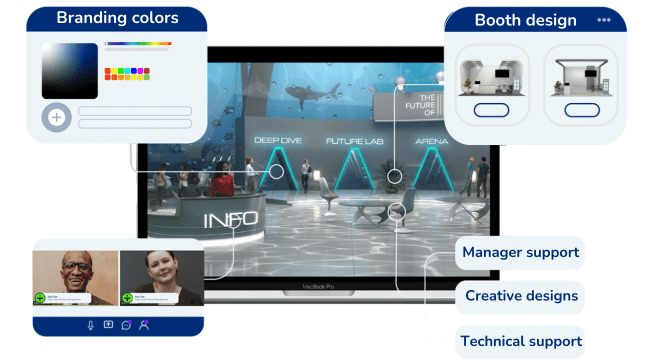 End-to-end managed service for virtual events 
Thanks to our many years of experience, we at MEETYOO know exactly what needs to be taken into account to create successful hybrid and digital events. Our MEETYOO Pro platform for virtual events comes as a fully managed service to ensure a carefree event experience. This is how: 
A dedicated account manager will support you every step of the way
Access to all the technical support - you'll never have to worry about the backend
Creative designers that will bring your vision into life
Image
Experienced and professional virtual event management with MEETYOO Pro
MEETYOO's professional virtual event planning allows you to design and realize the event of your dreams.
Managed service
MEETYOO's solution for hybrid and virtual events offers you the best digital event toolkit on the market. With more than two decades of experience, we have the necessary digital know-how and skill set, and our track record with large-scale hybrid and virtual events speaks for itself. When you work with us, we make sure we work as a team. 
Image
Premium registration management 
The registration management page and system are one of the most important aspects of any event. With MEEYOO Pro, you can individually set up a customized or template-based registration page to gather all relevant information from your hybrid or virtual event participants. In addition, MEETYOO's virtual event platform allows you to easily integrate external ticketing providers. 
4 steps for a successful virtual event
Our team of experts will assist you in finalizing the concept for your virtual event, including support on timelines, duration, and engagement features to add to key areas of your virtual event.
Follow these 4 steps in your planning process to ensure a successful virtual event premiere:
Image
eBook: Planning a World-Class Virtual Event
Learn to create engaging employee events for your global workforce.
The Premium All-in-One Virtual & Hybrid Event Solution
We want to take you on a rocket ride through the MEETYOO universe. Trust the best – with more than 20 years of expertise, we will find the best solution for you.
United Kingdom & Europe
Phone: +44 20 386 888 83
CET | Mon - Fri from 8 am - 6 pm
North America
Phone: +1 646 741 3167
CST | Mon - Fri from 8 am - 6 pm