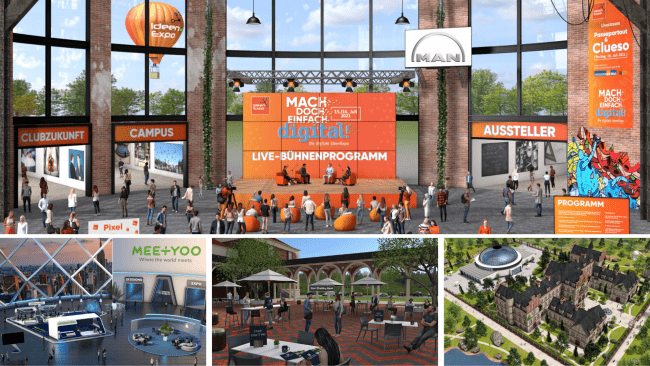 Host memorable hybrid and virtual events with MEETYOO 
Organizing and realizing your own hybrid or virtual event requires some preparation and planning. Thanks to our many years of experience, we at MEETYOO know exactly what needs to be taken into account to create successful hybrid and digital events.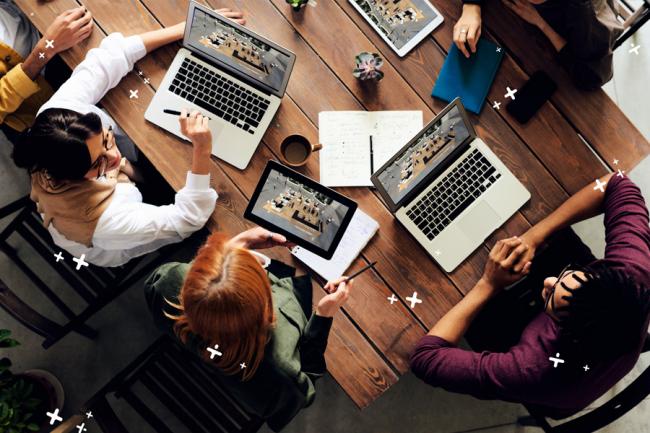 Planning is key for successful virtual and hybrid events 
When you decide to host a hybrid or virtual event, you will find that structured planning is just as essential for a successful digital event as for physical events. Through our long-time experience of hosting and managing virtual events, we are able to assist you throughout the entire planning process and prevent pitfalls when digitizing an event.
Image
Experienced and professional virtual event planning with MEETYOO Pro
MEETYOO's professional virtual event planning allows you to design and realize the event of your dreams.
Why you should organize your virtual events with MEETYOO
MEETYOO's solution for hybrid and virtual events offers you the best digital event toolkit on the market. With more than two decades of experience, we have the necessary digital know-how and skill set, and our track record with large-scale hybrid and virtual events speaks for itself. Here's why organizing your virtual and hybrid events with MEETYOO is the solution to all of your event woes. 
Image
Premium registration management 
The registration management page and system is one of the most important aspects of any event. For this reason, your event's registration page and system should be the main focus of your marketing campaigns. With MEEYOO Pro, you can individually set up a customized or a template-based registration page to gather all relevant information from your hybrid or virtual event participants. In addition, MEETYOO's virtual event platform allows you to integrate external ticketing providers easily and flexibly. 
4 planning steps for a successful virtual event
While the event structure and design is primarily determined by the type of event and the target audience, it is important to take into consideration that virtual events and their digital formats need often to be adapted and compressed in length to fit the attention span of the participants and visitors. Our team of experts will assist and advise you in finalizing the concept for your virtual event including support on timelines and duration, and how and which engaging features to add to all the key moments and areas of your virtual event.
Generally, 4 planning steps need to be tackled for a successful virtual event premiere:
 
Image
The Premium All-in-One Virtual & Hybrid Event Solution
We want to take you on a rocket ride through the MEETYOO universe. Trust the best – with more than 10 years of expertise, we will find the best solution for you.
United Kingdom & Europe
Phone: +44 20 386 888 83
CET | Mon - Fri from 8AM - 8 PM
North America
Phone: +1 347 817 7620
CST | Mon - Fri from 8:30 AM - 6:30 PM