The "Conscious Capitalism European Conference" - Live stream of the event by MEETYOO

Berlin, 19.09.2019: On the 22. – 24. September 2019 the "Conscious Capitalism European Conference" will take place for the second time. It offers a meeting point and idea exchange opportunity for those who have learned to appreciate the value of "Higher Purpose" in business. The presentations on 23.09.2019 will be broadcasted live by MEETYOO conferencing GmbH in a form of a free webstream.
Conscious Capitalism creates and supports a global network of entrepreneurs and chief executives who dedicate themselves to growth through conscious leadership, active communication, constant learning and development.
Over the three days of the conference participants will have an opportunity to exchange views with world-class experts in agile business change and get insights about how such leaders as John Mackey and Aynur Boldaz are contributing to it.
In addition to the on-site event, all interested in the topic will have an opportunity to attend the conference via a live stream on September 23. The MEETYOO's webcasting platform enables resource-saving interactive worldwide participation in the event. Interested parties and professionals can use the online platform to make contact with outstanding leaders and take part in an interesting supporting programme. Online participants of the conference will also have access to an exclusive keynote by David Gardner, Co-Founder and CEO of Conscious Capitalism USA.
Tony E. Kula, founder and CEO of MEETYOO conferencing GmbH, is looking forward to this inspiring event: "We support the ideas and concepts behind the Conscious Capitalism movement. It is therefore a pleasure for us to use our technology to extend the reach of the messages of this conference".
Registration for the on-demand version is always possible and free of charge.
Registration information.
Image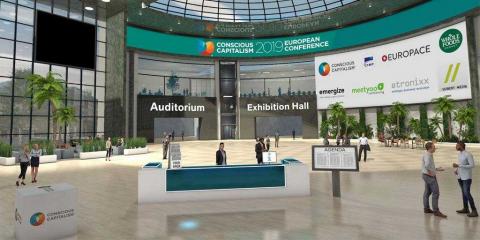 About MEETYOO conferencing:
MEETYOO conferencing GmbH, headquartered in Berlin, is an international provider of conference calls, webcasts and virtual events. More than 3,000 customers of all sizes and industries rely on MEETYOO's solutions for location-independent collaboration. The company has been TÜV-certified in quality management and information security for the past 10 years – the ISO/IEC 27001:2013 certificate is a proof of the high standards of services provided by MEETYOO.
The MEETYOO's subsidiary, ubivent, has been awarded the "Software made in Germany" seal of approval and is proud to hold this title for more than six years. This internationally recognized seal is awarded by BITMi e.V. on the authority of the Federal Ministry of Economics and Energy. It marks and guarantees the top quality of German software products. Since the acquisition of the "ubivent" platform for digital events in 2016, MEETYOO has been successfully helping its customers to organise innovative virtual fairs, conferences, and conventions.
About Conscious Capitalism:
Conscious Capitalism is a philosophy that is based on a simple idea that when practiced consciously, business naturally supports the development of humanity. This philosophy is anchored in a set of four guiding principles: Higher Purpose, Stakeholder Orientation, Conscious Management and Awareness Culture. These practices help business leaders around the world change the way companies are run and perceived.