MEETYOO strengthens its position in North America with new talent acquisition

New York: December 10, 2021
The digital event provider MEETYOO has solidified its standing in the USA by bringing in the expertise and talent of Laura Pitt and Lisa Farrell who will be joining as Head of Sales and Managing Director, respectively. Laura boasts a career in SaaS that spans 20 years, 14 of which she has spent specializing in virtual/hybrid events and webcasting. She has spent almost 11 years at ON24, where she built the account management and channel teams and took over as Senior Director, Expansion at 6Connex before joining MEETYOO.
Lisa is joining MEETYOO with a record as a true virtual events veteran with more than 16 years of experience in this field. She has held leadership roles at multiple virtual event vendors, including VP, Enterprise Sales West at Inxpo, and CMO at 6Connex, where she was part of the founding executive team. Her addition to the team is strategic, as both Laura and Lisa have already spent years working as a team and making a name for themselves in the virtual event industry. 
Image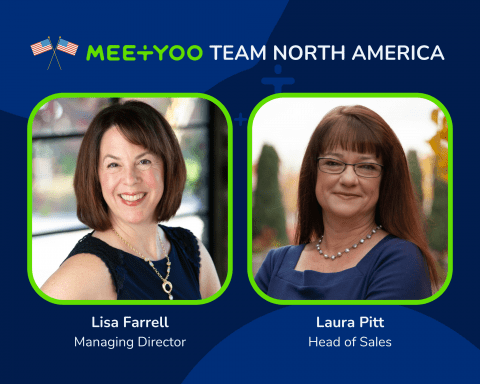 With this new and vastly experienced addition to the MEETYOO team, the German virtual event company with headquarters in Berlin is making a statement on leadership and taking a step forward into becoming a worldwide virtual event provider and digital technology pioneer. This also marks a new milestone on the way towards the original vision of the company's founder and CEO, Tony Kula:
"I have represented American companies in Germany for over 25 years. Since then I have dreamed of one day entering the American market with my own product... I am incredibly proud, grateful, and excited that Lisa and Laura have decided to combine their superpowers again and to join us on this journey."  
Having worked together in the virtual event industry for over a decade, both Laura and Lisa joined MEETYOO on December 1, 2021, as their representatives for the USA and Canada. They will steer and strengthen the direction of the company's expansion into the North American market. Additionally to this region, MEETYOO is represented across Europe and the Asian Pacific – more than 16 countries in total, providing outstanding virtual event experiences around the world.