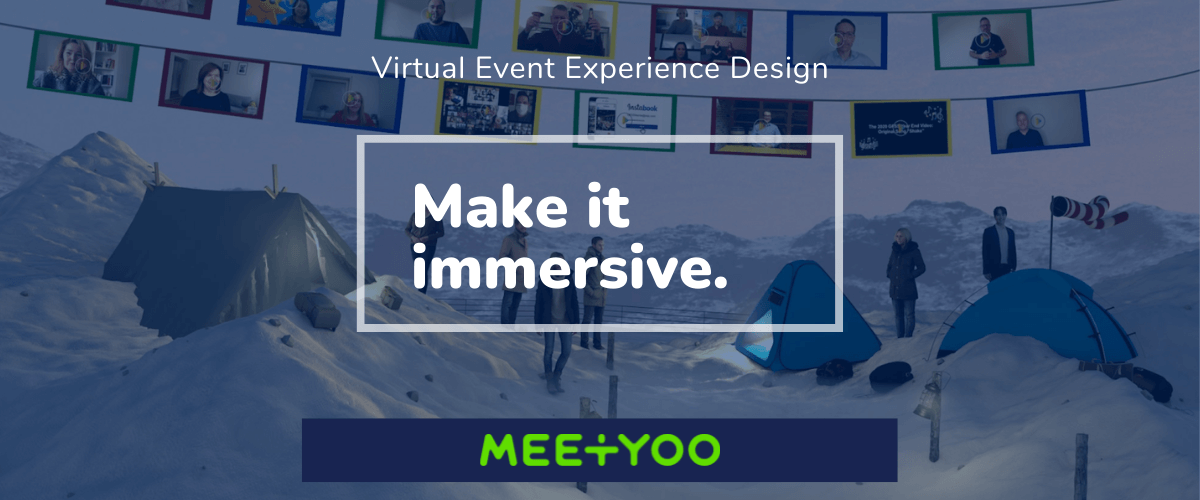 Event Professionals and Marketing Experts | 3 minutes
Immersive Virtual Event Experiences Reduce At-Home Distractions For Your Attendees 
Virtual events connect attendees across the globe without the carbon footprint of flights, trains, cars, or hotel rooms. 
The main difference between an in-person event and a virtual event is the event environment. When attendees are at an in-person event, the venue, audio and visual experience, and close proximity to others helps them stay engaged. 
Since virtual events are attended from home, these environmental factors aren't present. The comfort of our homes leave us easily distracted. Your event's design needs to be inviting and immersive to keep your remote attendees engaged without getting fatigued.
Luckily, MEETYOO's immersive event design features can mimic the feeling of an in-person event. By designing your event from an immersive lens, your attendees have less at-home distractions, and feel more like they're at an in-person event. This creates higher attendee engagement, which is crucial for your virtual and hybrid event's success. 
Here are some of our recommendations for creating immersive virtual event experiences. 
Different spaces in your virtual environment should cater to different experiences. This helps break up your attendee's day and creates richer memories for each component of your event. Our virtual event interface is highly customizable for exactly this purpose. 
Start with templates used by the world's most successful brands, and customize these to create your own unique virtual venue. Go beyond traditional video calls and immerse your attendees in a truly unique event experience.
An immersive design is just one of five strategic experience design considerations that we've outlined in our Virtual Event Experience Design eBook. Download your free copy to boost attendee engagement for your virtual event. 
Image
Create Higher Engagement for your Virtual Events
Download your free copy of our eBook to boost attendee engagement for your virtual event.
Image