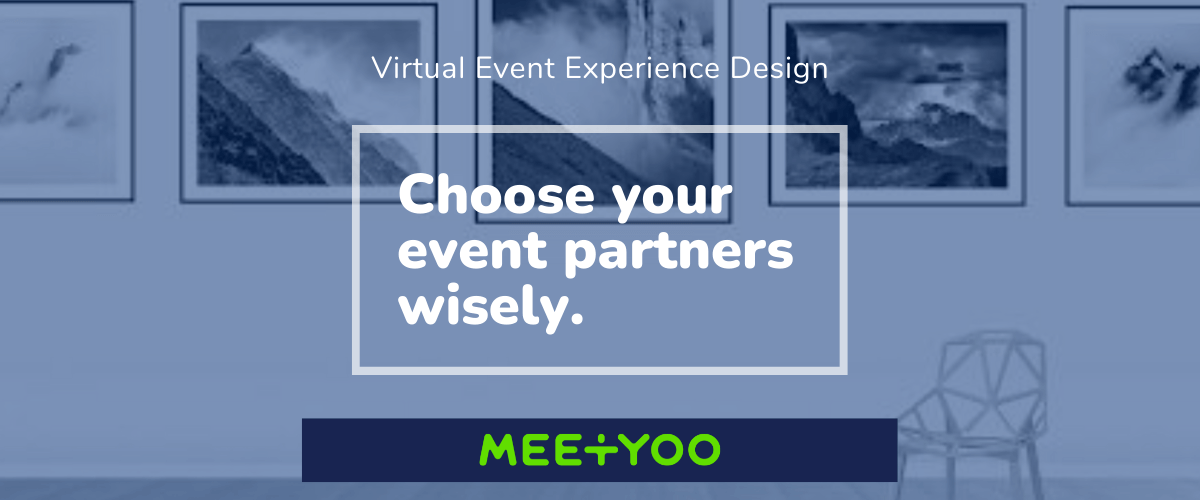 Event Professionals and Marketing Experts | 3 minutes
Choosing the Right Event Platform Partner Can Make or Break Your Next Virtual Event
High attendee engagement and satisfaction at virtual events starts with an event design that is seamless to navigate. An unreliable or complicated event design can be a real barrier for digital attendee engagement. 
MEETYOO's team designs every event with this in mind. We're able to do this because of our extensive experience in the space. 
To help your next virtual event succeed, we've provided our top insights for building an easy-to-navigate event experience.  
Whenever possible, use integrated platforms with a long history of flawless event execution. Ideally, you want your platform partner to stream, host, and manage your live and pre-recorded content seamlessly within your virtual venue. 
Integrations increase complexity. 
Instead of piecing different providers together, partner with battle-tested platforms and experienced teams that provide a comprehensive event solution. 
This will allow you to focus on your event experience, content, marketing, and sponsors. So you can deliver unique event experiences for maximum Return on Investment (ROI).
When you work with our team at MEETYOO, your focus remains solely on your attendees, speakers, and sponsors, instead of technical set up details. 
Our team manages your event set up, testing, speaker prep, technical support, and dozens of other factors that make sure your event is delivered seamlessly.
Reliable virtual event partners have processes, contingencies, and extensive experience managing live events days. Live days are special, and even well designed events have surprises due to unexpected or unusual circumstances. How you and your event partners react during your live event, and how you communicate with your attendees, speakers, and sponsors, will set you apart from events that fail. 
When your event attendees need help, they should be able to easily navigate the digital interface of your event and quickly find the support or answers they need.
An ideal virtual event partner is just one of five strategic experience design considerations that we've outlined in our Virtual Event Experience Design eBook. Download your free copy to boost attendee engagement for your virtual event. 
Image
Create Higher Engagement for your Virtual Events
Download your free copy of our eBook to boost attendee engagement for your virtual event.
Image