Image
Discover a powerful tool to book and host meetings.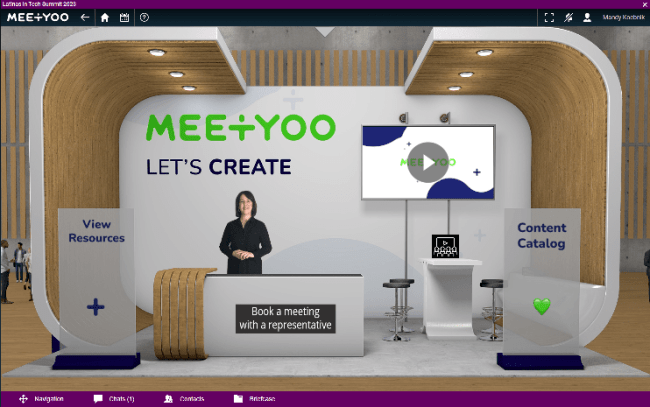 Make connecting easy and seamless by offering meeting booking and hosting, right inside your virtual event!
This powerful tool makes scheduling video meetings between attendees and representatives a breeze. Book a meeting, get confirmation, and see it appear on your personal agenda. And then join the meeting with just one click.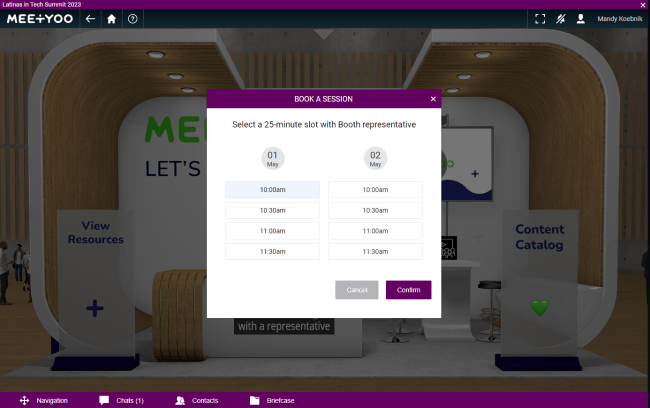 With video meetings built right into your virtual event, attendees can effortlessly schedule time with experts and booth representatives. Your exhibitors will love the flexibility for their staff and you'll see more conversations than ever before.


Elevate your virtual events with the power and convenience of native meeting booking and hosting!
Image
How does it work?
It's easy for both attendees and representatives. Each expert or booth rep can set their personal availability including meeting duration and breaks during the day. Attendees can then view availability, selecting the best day and time to meet. A confirmation email is sent to both parties, and reminders can be used if meetings are set for future dates. The meeting will appear on each party's personal agenda, and with just one click, they can join the meeting - without ever leaving your virtual event!
Image
Learn how this feature can work for your event
Our team will be happy to advise you!
Advantages at a glance  
Increased Attendee Engagement: By enabling attendees to schedule meetings to network with experts and booth representatives, you'll foster more connections, more conversations, and a more vibrant virtual community.
Increased Exhibitor Satisfaction: By promoting meetings directly within the event, booth representatives will connect with more attendees, typically their most important goal for your event.
Improved Scheduling Efficiency: The feature enables attendees to schedule meetings with experts and booth representatives quickly and easily without the usual email back and forth.
Better Organization: It's easy for attendees and representatives to track their individual meetings, and booth owners can easily view and manage the activity at their booth.
Higher ROI: Because no one needs to leave your event to book or host a meeting, you'll see attendees spending more time around your content, staff, and each other - which means more ROI for your event.
Image
Leave us your contact information below and we will advise you personally!
United Kingdom & Europe
Phone: +44 20 386 888 83
CET | Mon - Fri from 8 am - 6 pm
North America
Phone: +1 646 741 3167
CST | Mon - Fri from 8 am - 6 pm