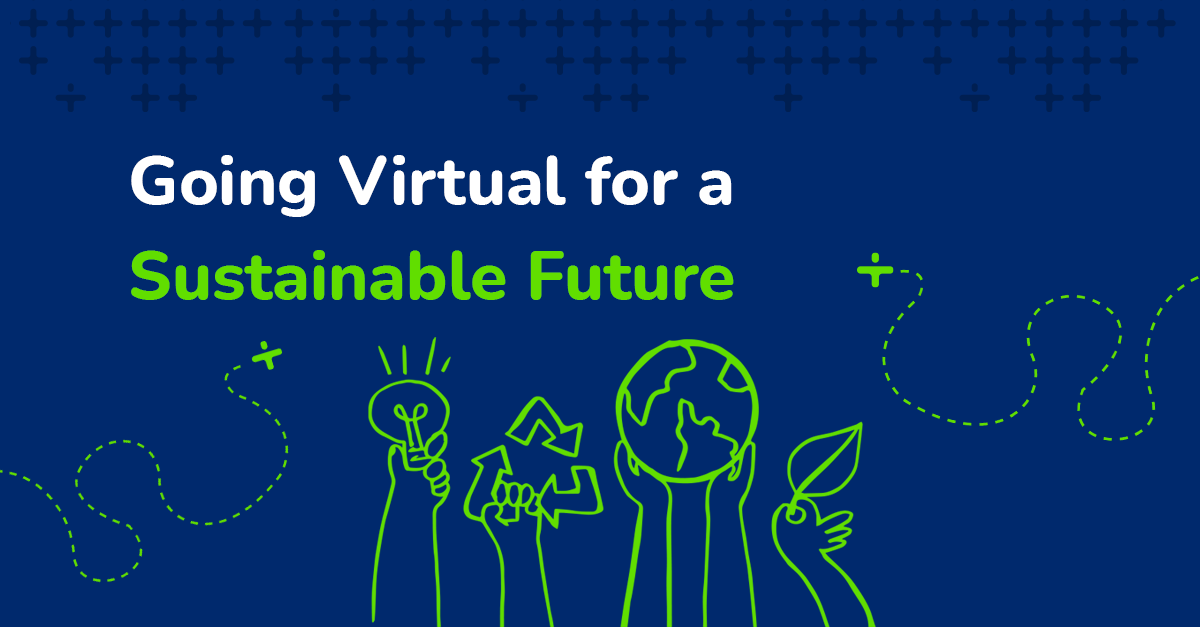 Event Organizers & Marketing Professionals | 5 Minutes
Did you know, a single conference attendee produces over 170 kilograms of CO2 emissions per day? Now imagine a three-day conference with 1,000 visitors  where participants are traveling to and from the event, using single-use products (especially after COVID-19), and eating just a portion of the food provided. This creates an enormous amount of waste and CO2 emissions which can easily be avoided. 
One of the most efficient ways to reduce your CO2 emissions is by hosting a sustainable virtual event. Virtual events will cut out travel emissions as well as food and single-use product waste. Studies have been conducted, like the one by Nature magazine, showing that digital events can reduce your carbon footprint by 94% and energy consumption by 90%. 
Many companies claim that sustainability is their top priority in the initiatives they want to tackle and this should be reflected in how they conduct business. Whether your event is big or small, it's so easy to take it virtually and its influence is huge. You can measure the emission reduction potential of bringing your next event online by using the calculator on the MEETYOO sustainability page or another online. Now that you know the benefits of taking your events virtually, we will review how to produce the best sustainable virtual event. This starts with some specific planning, partnering with NGOs, fun gamification, sustainable alternatives to bringing an event inside participants' homes, and the wonders of going hybrid.
As Co-Founder and Editor of the Event Industry News, Adam Parry said, "I think technology and sustainability can go hand in hand. Technology will help us measure and track our impact, the impact of events and everything that comes with it. The industry is developing software that could help us analyze even the smallest detail involved in an event for us to make better decisions based on that."
3 Step Plan
The hardest part of any new project is the start. It's important to begin with a plan and the right partners who will help you deliver your sustainable virtual event goal. At MEETYOO, we account for and offset our carbon footprint. We do this in three simple steps.
First, we can analyze your CO2 emissions using data provided by Plan A. We've partnered with Plan A, a green tech startup from Berlin focusing on "carbon accounting" for businesses, to help us analyze our data and reduce our carbon footprint which is something we can do with you as well.
Second, once the data has been collected, we create an emission reduction plan to put into effect. 
Third, we like to take things a step further and pair up with a certified environmental organization to compensate for emissions. 
A Theme with a Cause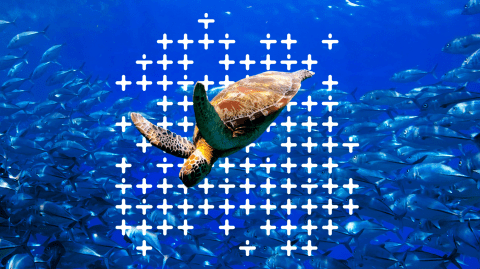 When organizing your actual sustainable virtual event, it's fun to bring your new initiative into play by making it a theme. Step number three can reflect the cause you want to support throughout your event and setting it as a theme.
For example, in our Deep Dive event series of 2021, we created an "underwater" theme which gave us an opportunity to bring awareness to the protection of the seas. We partnered with everwave, Coral Guardian and Healthy Seas and donated several thousand euros to support the efforts in cleaning up the ocean littered in plastic. During the event, our audience was able to find a multimedia library with information and materials about preserving the sea and its wildlife. This was a great way to tie a theme around a cause we believed in and make our audience feel as if they had learned something more than just the future of digital events. 
Friendly Competition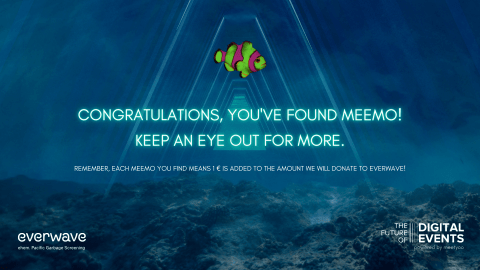 Having the multimedia full of information was a great touch but we also wanted to make sure that our audience was engaged and having fun, which is why we added some gamification. During the Deep Dive event series, we created a game to engage our audience with play and information around the theme and the cause we were supporting. We had a digital fish named MEEMO and encouraged our audience to click on it whenever they saw it swim across the screen. This hide and seek game with MEEMO got visitors to discover every room on the virtual event platform. This added play, education, and engagement that's only possible at a sustainable virtual event.
Support Local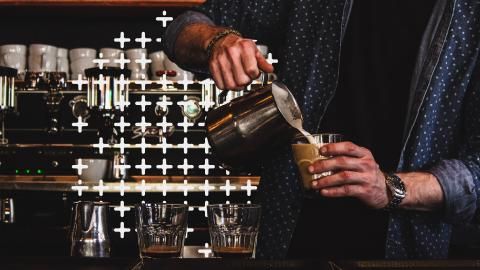 It's undeniable that one of our favorite things about in-person events is the free food. But fret not, this is also possible for your sustainable virtual events too. A great way to do this is by sending an e-gift card to your attendees to buy themselves coffee and lunch. As we've seen before, food can be a big waste factor which is why we encourage supporting local businesses. Send out your gift card with a list of ethical and local small businesses you recommend your audience to order from. This will elevate your sustainable digital event, audience engagement and local partnerships. 
Wonders of Hybrid
As we head back to a world of in-person events, event organizers and attendees are encouraged to be intentional and cognizant of the desired outcome. Samuel C. Stephens, Chief Executive at AB InBev Foundation, encourages us all to ask questions such as,
Does this require in-person attendance? 
If so, what can be done to make the event more sustainable from the different sustainable perspectives and approaches? 
Can we do this event as a hybrid event with some digital participation for those who might not need to be in person?
Samuel C. Stephens makes a great point in bringing up hybrid events. When you give your attendees the opportunity to come in-person or go virtually, you are still cutting down on your carbon emissions. Virtual event platform supports AI-powered matchmaking, design and content personalization which can connect remote attendees to the in-person event. 
Here at MEETYOO, we strive to go above and beyond when it comes to our sustainability initiative and we are here to help you. When you host an event with us, you can rely on our AWS cloud servers which offer a green alternative which also stands for excellent stability and scalability. We use 77% fewer servers, 84% less power, and a 28% cleaner mix of solar and wind power. And by 2030 AWS aims to use 100% renewable energy. 
Going green is our #1 priority and we do everything we can to reflect this in all aspects of our business. We support our clients with their journey on becoming more sustainable and we encourage our employees too. We bring in the sustainability initiative in everything we do internally and externally and hope you join us for the ride.
Image
Learn more about sustainable virtual events.
Speak with the experts on our team on how to start your new digital event. 
Image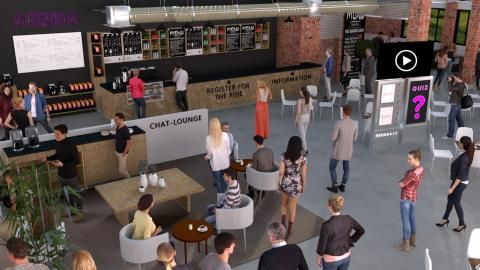 10 Pro-tips on how to host an innovative virtual event.
Image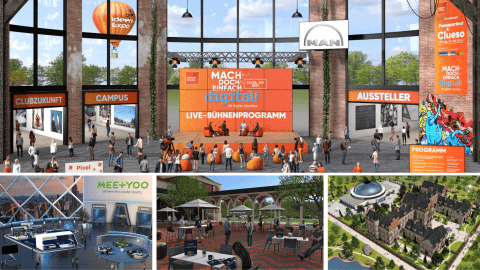 Your guide to know how and why you should customize your virtual event design to convey your event purpose in 2022.
Image