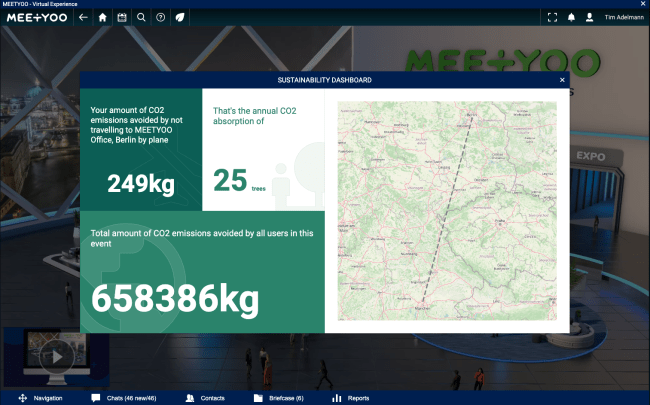 Learn more about your environmental impact
With the MEETYOO Sustainability Dashboard every attendee of a MEETYOO Pro event gains insights about his or her theoretical carbon footprint and the potentially avoided emissions by attending virtually. Furthermore, the audience learns how many trees would have needed to be planted to offset this CO₂ emissions.
Image
Advantages at a glance
A large part of the CO₂ emissions of an event are caused by the associated travel. With the Sustainability Dashboard in MEETYOO Pro we invite all participants to a thought experiment to make them aware of this fact.
Attendee Benefits
Education about advantages of going virtual
Learnings about offsetting options
It's fun!
Event Organizer Benefits
Increased attendee engagement
Gamification element combined with purpose
Positive brand charging
Our vision: Decarbonizing events
As a provider of digital communication solutions, "connecting people '' is one of our main purposes. But that sounds like a boring standard phrase and does not encompass everything we stand for. We want to inspire and empower businesses to join the age of digital transformation. MEETYOO solutions are innovative, engaging, and sustainable – and we believe in a corporate future that focuses on these values. By enabling clients to go virtual, we are aiming to decarbonize events.
That's our main goal and we reach it by providing digital experiences that connect people from all over the world with our unique technology. But this is not the only thing we value – customer care and service are part of our DNA.
That's how we calculate the trees
On average, we consider a tree to offset 200 kilograms of CO₂ over its lifetime, or approximately 10 kilograms per year for 20 years.
However, the CO₂ captured by a tree varies considerably depending on its species but also depending on the soil and climate conditions where the tree is planted.
If you are interested in learning more, we recommend tree nation for more information. 
Calculation basis CO₂ emissions of the trip
On average, we consider a plane producing 255g CO₂ / kilometer.
For ease of calculation, we have assumed traveling by plane for our Sustainability Dashboard.
You can learn more about assumptions for different transport modes and our sources here.
Image