Event Organizers, Event Professionals, Exhibitors | 4 minutes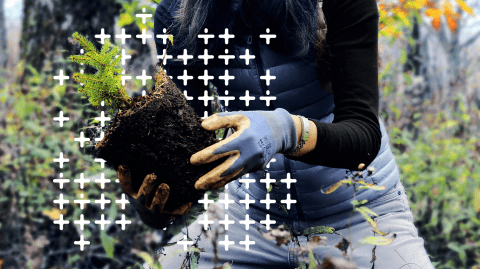 The annual carbon footprint of the global event industry is responsible for more than 10% of global CO₂ emissions. With sustainability gaining prominence around the world, it is essential that this figure is reduced. Fortunately, there are ways that the event industry can prioritize emission reduction without compromising the quality of events. In fact, it's possible to host net-zero events by making use of digital event platforms that compensate for all direct and indirect emissions for virtual events hosted on their platforms.
Virtual events are becoming increasingly popular, propelled by the functionality on offer and their green credentials.
How to reduce carbon emission at your events
In the pursuit of genuinely net-zero events, many businesses are choosing to follow a "carbon management hierarchy" that evaluates the needs of their exhibitors and attendees, while meeting their sustainability ambitions.
In the events space, this carbon management hierarchy looks something like the below.
 
The best route to a carbon-neutral event is by avoiding emissions in the first place. By cooperating with a reliable emissions accounting company, event planners can assess where their emissions are being generated, how essential they are, and if they can be eliminated. With the visibility provided by an emissions accounting company, events can more easily avoid carbon-intensive activities. 
The next priority in an event's carbon management hierarchy should be finding ways of reducing emissions. This could be through embracing renewable energy sources, cutting out food waste, encouraging public transport use among your attendees, or even something as simple as adopting energy-efficient lighting. 
Where possible, make adjustments to the processes and activities that form part of your event, ensuring that everything is optimized in terms of sustainability. Replace your high-carbon activities or energy sources with low-carbon alternatives. 
The least favored option within the carbon management hierarchy is offsetting the carbon emissions generated by your event. Sometimes emissions are inevitable. Unfortunately, the modern economy still depends on fossil fuel use and other high-carbon processes. Where emissions cannot be eliminated, make sure you compensate by offsetting or sequestering an equal amount of carbon using certified carbon offset projects.
The MEETYOO Co2 calculator
Estimate the emissions' avoidance potential of going virtual. Unless you measure the carbon footprint of your event, how can you get to net-zero?
Visibility is key to emission reduction, which is why it is essential to track as much as possible.
Disclaimer: The MEETYOO co2 calculator is built to give a quick and easy estimate of the emissions saving potential when going virtual compared to an on-site event. Even though the calculation is based on scientific research, it cannot give you a complete picture of your event's emission. If you need a more detailed assessment, feel free to contact us for further information, as we are actively cooperating with Plan A, a SaaS platform provider for carbon accounting, decarbonization, and ESG reporting.
How we calculate the co2 emissions
Co2 emissions caused by assumed travel distance (Average travel distance in km):
We ask for the number of participants at your event, as well as assumptions around their preferred modes of transport and the average distance that they would need to travel to attend in person.
We then calculate carbon emissions for different transport modes and the assumed distances traveled:
Plane: 255g / kilometer
Train: 41g / kilometer
Car: 192g / kilometer
Bus: 105g / kilometer
Co2-free (Bike, walking, etc.): 0g / kilometer

Co2 emissions caused by the venue
For co2 emissions related to energy consumption at the event venue, we ask for the size of the location. For heating, we assume a carbon footprint of 0.11 kg per m2.
For energy consumption, we ask if green energy is used at the venue or not. If the host works with a non-green venue, we assume energy consumption of 0.05 kg per m2.
Both energy parameters are multiplied by the number of event days.
Co2 emissions caused by hospitality
We ask for the number of event days. For food-related emissions, we estimate a co2 emission of 1.3 kg per day, per person for food. We assume average emissions based on three meals and two snacks per day. 
We do not differentiate in terms of the food being consumed, such as whether it is plant or meat-based.
For hotel stays, we use average emissions of 9 kg per person, per night.
We multiply this by the number of input days (-1) to make an assumption on event-related stay overnight. This number is a very rough estimate, as hotel co2 emissions differ substantially across different countries. For example, an average of 7.2 kg of carbon emissions is created per room night in France, 17.6 kg in Spain, and 36.2 kg in the US. 
Comparison with virtual events
To compare on-site and virtual events, we have to take into account that an online event also emits carbon dioxide due to the energy consumption of servers.
In terms of energy, we assume an emission of 0.07 kg per hour, per participant, where an event day means that participants are online six hours a day. This data is sourced from our partner Plan A.
The emissions figure is compared to the total emissions generated by the on-site event, using the calculation steps mentioned above.
 
Image
Net-zero virtual events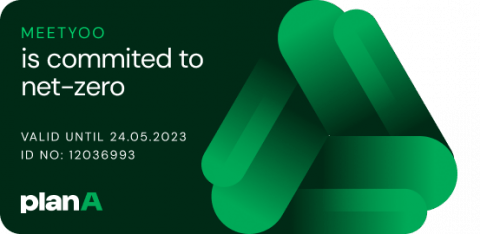 We take into account all direct and indirect emissions caused by events organized on our virtual event platforms.
We are constantly working on reducing the carbon footprint of our entire company, collaborating closely with Plan A. We are hosted primarily on AWS servers based in Frankfurt that relies largely on green energy sources.
We have a vision to decarbonize the event industry by creating outstanding digital events. We are proud to confirm that we are a carbon-neutral company, offsetting our 2021 emissions.
Image
We decarbonize your events
MEETYOO and Plan A can work with your company to deliver a carbon-neutral virtual event that works for hosts, attendees, and the planet.
Image